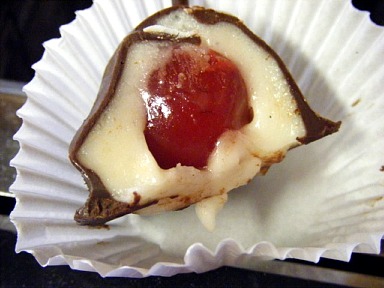 I always use this recipe when making chocolate covered cherries. I love the fondant recipe; it always wins taste tests around here! The recipe has to be made the day before so the fondant has a chance to rest. I use a good quality dark chocolate for coating the cherries with! I love to finish my cherries with a white chocolate design!
The centers of the cherries will liquefy if allowed to sit for a week or two. Have you ever wondered how this happens? I explain how this works.
CANDY RECIPE HELP

MSBREEZ, Premium Member, Says: "The chocolate covered cherries disappear in my house within the first 3 days! Let us see your beautiful chocolate covered cherries when you've made them!"