The flavors of bacon combined with chocolate is so sinful and heavenly at the same time. This is my favorite all-time snack - it's salty, crunchy, chocolaty - just to name a few of its attributes!
CHOCOLATE RECIPE HELP

INGREDIENTS
3/4 pound thick-cut applewood-smoked bacon (16 slices)
12 ounces semisweet chocolate chips
4 ounces white chocolate, melted, optional for garnish

INSTRUCTIONS
1. Position the oven shelf to the middle and preheat the oven to 375 degrees F. Line a rimmed baking sheet with parchment paper. Line another other rimmed baking pans with two layers of paper towels.

2. Place the bacon on the prepared baking sheet lined with parchment paper. Bake in the oven, about 20 minutes or until the bacon is crispy. Remove the pan to the wire cake rack and let the bacon cool in the pan for about 5 to 7 minutes.

3. With tongs, carefully remove the cooked bacon slices to the prepared baking sheet lined with parchment paper.

4. Meanwhile set up a double boiler. Heat a large saucepan filled with water over high heat until boiling. Turn off the heat. Set a heat-proof bowl over the hot water. Add the chocolate chips and stir with a spoon until completely melted.

5. Cover a wire cake rack with parchment paper. Using clean tongs, carefully dip the bacon into the melted chocolate turning to coat all sides in chocolate. Transfer to the clean sheet of waiting parchment paper. Repeat with remaining slices of bacon.
Drizzle with the white chocolate, if desired.
Refrigerate until chocolate is hard.
Once cool, enjoy!

TUTORIAL by kmtetour, Premium Member:
I used maple flavored bacon figuring that a sweet bacon would mix better with chocolate.



I fried up the bacon instead of baking it (I only did a half a pound since I was experimenting).
SARAH SAYS: Baking the bacon would have made the slices flatter.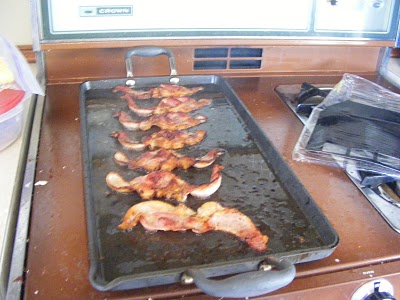 I set the fried bacon on paper towels to drain off the excess grease. I then broke each piece in half.



Then I prepared a cookie sheet with a piece of parchment paper to place the covered pieces on.

I have a double boiler, but I used a small frying pan on top because I wanted a wide flat surface to work with.



I started with 4 oz. of chocolate, but later added a couple more. I would say you would need about 12 oz. for a 3/4 pound of bacon.



Got the chocolate all melted.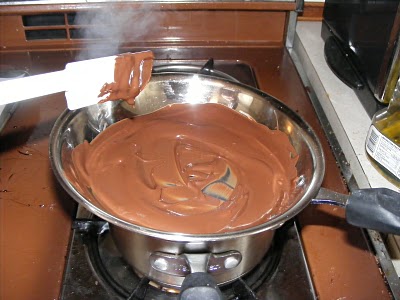 I dipped each piece in the melted chocolate and turned it until well coated with chocolate.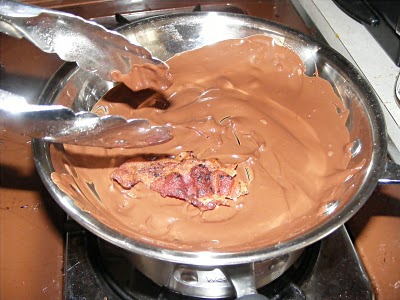 Then I placed the covered pieces on the prepared cookie sheet to cool. I ended up putting this in the freezer because I didn't allow enough time for them to set.



They were pretty good, provided they had enough chocolate on them.