Chocolate Chip and Heath Bar Biscotti

These crunchy biscotti cookies feature the classic flavor of Hershey's Heath Toffee Bars along with chocolate chips and espresso powder. To make them even more over the top, I dip them chocolate. They are totally addictive!
Here, I give you several options for dressing them up for Christmas gifts or holiday cookie exchanges with edible royal icing decorations, sprinkles, or a handful of chopped nuts. Beautiful AND delicious, biscotti make excellent gifts because they are sturdy and stay fresh longer than most cookies. They also ship well, as a result.
COOKIE RECIPE HELP
INGREDIENTS
Biscotti:
2 cups unbleached all-purpose flour; spoon into measuring cup and level to rim
1 teaspoon baking powder
1/2 teaspoons salt
3/4 cup Hershey's Brand Heath Toffee Bits; They're real HEATH Candy Bars broken into pieces that are just the right size for baking and topping.
3/4 cup semi-sweet chocolate chips; Hershey's Brand preferred

1 cup sugar
2 large eggs
1 tablespoon canola oil

1 teaspoon vanilla extract
1 teaspoon instant espresso powder (optional)

Chocolate Dip:
2 cups semi-sweet chocolate chips, divided; Hershey's Brand, if desired
2 teaspoons shortening, divided

Decorating Options:
Christmas themed sprinkles and/or one royal icing decoration for each biscotti being decorated; Cake Mate or Wilton Cake Mate is available in most grocery stores. Wilton is available at craft stores and some department stores.
Or,
3/4 cup toasted almonds, chopped

INSTRUCTIONS
Mix and shape biscotti:
1. Position a rack in the center of the oven and preheat to 350 degrees F.
Lightly spray a baking sheet with oil or line with parchment paper or a nonstick, silpat baking mat. Set aside.

2. In a medium bowl, whisk the flour, baking powder, and salt until well-combined. Then mix in the chocolate chips and Heath Toffee Bits. Set aside.

3. In another medium bowl, place the sugar, eggs, oil and vanilla and instant espresso powder.



4. Beat the sugar and egg mixture using a handheld electric mixer, starting at low speed and gradually increasing it to high, until frothy, about 1 to 2 minutes.

5. Make a well in the center of the dry ingredients and pour in the egg mixture. Using a spoon, stir until JUST moistened. The dough will seem a little dry at first, and then may become sticky.



6. Knead the dough briefly in the bowl just until it comes together.



7. Turn the dough onto a work surface; do NOT dust the work surface with flour beforehand.
Shape the dough into two 8 x 2.5-inch logs.

8. Place the logs about 3-inches apart on the prepared baking sheet. Flatten the logs slightly with your hands.



Bake the biscotti twice:
1. Bake until the logs are golden brown and covered with tiny cracks, about 30 minutes. Do not turn off the oven.
2. Transfer the logs in its pan to a wire cake rack and let them cool in the pan for 10 minutes.



3. Remove to a work surface using a large spatula while still warm.

4. On a work surface, using a serrated knife, cut the logs on a slight diagonal into 1/2-inch-thick slices.

5. Return the slices to the baking sheet.

6. Bake for 10 minutes. Turn the biscotti over and continue baking until the edges are crisp, about 10 minutes more. The edges will be brown and the centers will be soft, but the biscotti will crisp when cooled. Do NOT overbake.



7. Transfer to a wire cake rack and cool completely.



STORAGE
Biscotti keep for 2 weeks or so in an airtight container or for 3 months frozen.

TO CHOCOLATE DIP AND DECORATE
NOTE: dip and decorate a small portion of the baked and cooled biscotti at a time.

CHOCOLATE DIP:
1. Melt 1 cup of chocolate chips at a time in the microwave or in a double boiler. When melted, add one teaspoon of the shortening to 1 cup of melted chocolate chips and stir until combined. If necessary, rewarm in the microwave under low power for 30 seconds at a time. Stir well before using.
NOTE: To replenish, melt the remaining 1 cup of chocolate chips and add the last 1 teaspoon of shortening. Continue dipping the rest of the biscotti, after decorating the first portion.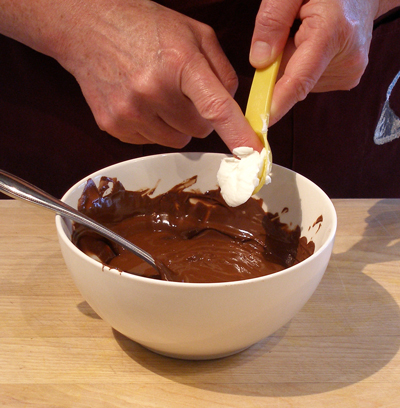 3. Pour chocolate into a tall narrow heat proof container, then tip the container on a diagonal and dip the biscotti one-third to halfway into the chocolate.
Let the excess drip off, then scrape the bottom of the biscotti against the side of the container.

DECORATE:
While the chocolate is still warm, you have several options for decorating - leave as is and let dry for chocolate dipped biscotti or decorate with an edible royal icing decorations, sprinkles or decorate with chopped nuts, such as almonds. After decorating, let the biscotti sit at room temperature so the chocolate can harden. You may place baking sheet full of dipped biscotti in the refrigerator to help harden the chocolate more rapidly. But, do not store them there.
DECORATE WITH EDIBLE ROYAL ICING DECORATIONS AND/OR SPRINKLES



Edible Royal Icing Decorations:
1. Place the just chocolate dipped biscotti on a foil-lined baking sheet.

2. Center the royal icing decoration on the still-wet chocolate, and press lightly.



Sprinkles:
1. If you are using sprinkles, sprinkle them on the just chocolate dipped biscotti before you place the biscotti on the baking sheet.



2. Place on a foil-lined baking sheet to set.
DECORATE WITH NUTS, SUCH AS ALMONDS



1. Toast and chop almonds before dipping biscotti in melted chocolate.



2. Sift to get out the small almond dust>

3. Dip biscotti in chocolate and the, sprinkle with chopped nuts.



4. Place on a foil-lined baking sheet to set.
Disclaimer: Compensation and Hershey's products for recipe were provided by Hershey's. The recipe expressed herein are those developed by the authors and are copyright 2012 Sarah Phillips, Inc.