The chocolate cake glazes works and holds up great when poured over whipped cream and frosting. The golden syrup use in the recipe gives it a sophisticated flavor. We show you how to use this delicious glaze over our stabilized whipped cream filled and frosted Cherry Pink Tuxedo Mini-Cake and Cupcakes.
CHOCOLATE RECIPE HELP
The Chocolate Cake Glaze is also used with the Nutella Raspberry Bliss Cake


And, the Bacon and Salted Caramel Angel Food Cake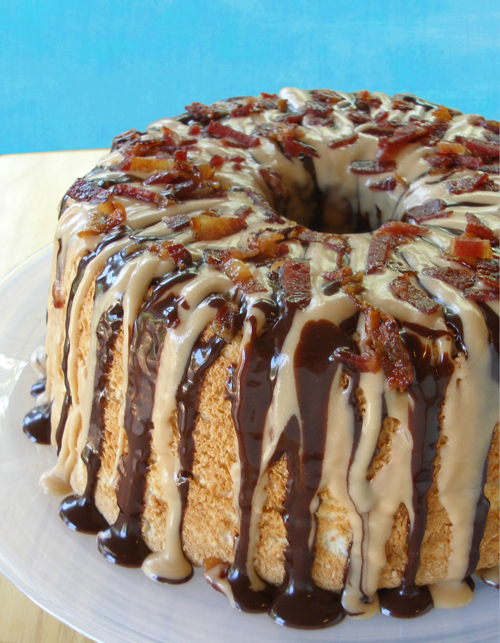 Lyle's Golden Syrup, which is use in this recipe, is made by Tate & Lyle, is pure cane sugar syrup with a mild caramel flavor. It is widely available in grocery stores. Substitute with light corn syrup, 1 for 1, if you cannot locate.
INGREDIENTS
4 ounces high quality semi sweet chocolate, chopped into evenly sized 1/4-inch pieces
1/2 cup heavy whipping cream, heat until just boiling
1/4 cup Lyle's Golden Syrup
2 teaspoons vanilla extract

INSTRUCTIONS
1. Pour steaming hot (not boiling) cream over chopped chocolate and stir until melted.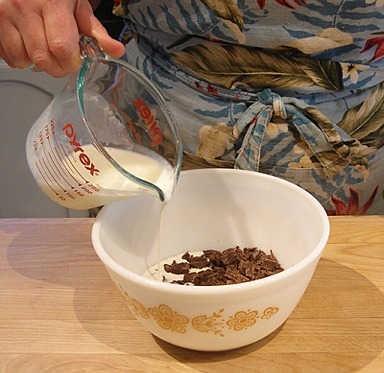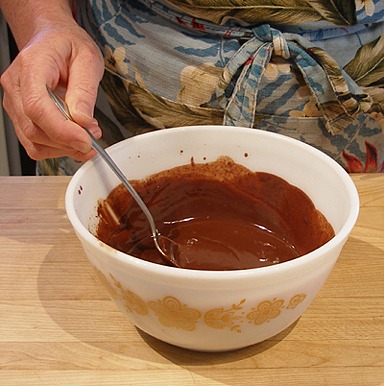 2. Add the syrup and vanilla. Then, combine.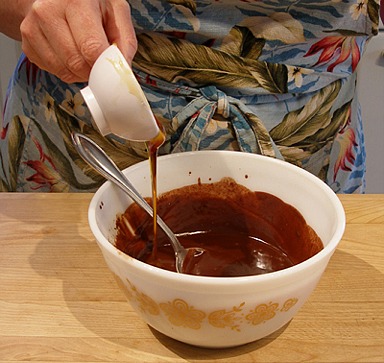 3. Pour into measuring cup with pouring spout. Press a piece of plastic wrap on its surface.

4. Set aside and let cool for about 20 minutes. This also allows it to thicken to a pouring consistency.

HOW TO GLAZE THE CAKE
SARAH SAYS: Kelly and I show you how to use this delicious glaze over our stabilized whipped cream filled and frosted Cherry Pink Tuxedo Mini-Cake and Cupcakes