Chocolate Angel Food Cake
Variations: Cocoa-Orange Angel Food Cake; Mexican Chocolate Angel Food Cake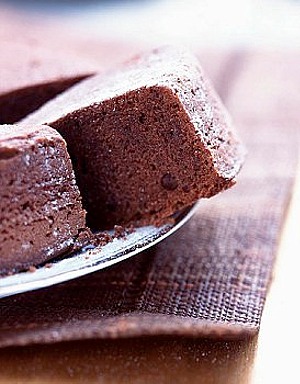 stock photo
Zaxmom, Premium Member, wrote: "I baked what I thought would be a beautiful chocolate angel food cake (recipe from allrecipes.com), only to be disappointed when I took the cake out of the oven. I followed all recipe instructions to the letter.... My guess is I took the cake out too soon, but I'm not sure that was the problem."
SARAH SAYS: I looked over her recipe and determined there were several problems with it. So, I rewrote it, which I share here.

After zaxmom tried my new recipe, below, she exclaimed: "I used your reworked recipe for (the) Chocolate Angel Food Cake II from allrecipes.com. WOW!! It rose beautifully, clung to the pan, and tastes yummy. It really looks like an angel food cake - so high and light. I dusted it with confectioner's sugar. Next time, I'll add a bit more grated chocolate as I like it more chocolaty. Very delicious, a real winner. I'll be making this one often."
CAKE RECIPE HELP

zaxmom, Premium Member, Says: "Sarah's Mexican Chocolate variation is great! I've made it several times, and as long as I follow her instructions, my cake does not fall out of the pan. I can't tell you how many of these disasters I've had, but I've learned how long to beat my whites and what they should look like at the stiff and glossy stage - and I've gotten better at folding the flour into the whites. I, too, tried the balloon whisk and slotted spoon for folding and they did not work. A good size rubber spatula does the trick when folding. It takes practice to get a good result with angel cakes, but you'll get there - especially with Sarah's input. She's the BEST!!"