Cherry or Apricot Almond Clafoutis or Clafouti

Bing Cherry Clafoutis or Clafouti
Originally from the Limousin region, Clafoutis (also known as Clafouti), a country-French dessert is made by topping a layer of fresh fruit with batter. After baking it's served hot, sometimes with whipped cream. Some clafoutis have a cakelike topping while others are more like pudding cake, classified as a custard. Cherries are traditional, and this recipe calls for summer apricots for a variation, but will work well with almost any seasonal fruit that can go into a pie. When fresh fruit is used, this popular cake is sometimes called a Flognarde. The true Limousin Cherry Clafoutis is cooked with the stones left inside the cherries, giving much more flavor to the cake during the baking process. For our recipe, we remove the cherry pits.
CUSTARD RECIPE HELP
When mixing the batter in Step #s 2 - 4, you can also pulse the sugar, eggs, cream, milk and extracts in a food processor fitted with a plastic blade until well-mixed. Then sift the flour over mixture and pulse until just combined.
INGREDIENTS
few tablespoons softened butter and sugar for preparing pie plate

1/3 cup plus 2 tablespoons sugar, divided
3 large eggs
3/4 cup heavy whipping cream
3/4 cup whole or 2% milk
2 teaspoons vanilla extract
1/4 teaspoon almond extract
1/2 cup unbleached all-purpose flour; spoon into dry measuring cup and level to rim

3 cups cherries, pitted or 8 apricots, about, cut in half and pitted
1/3 cup slivered almonds, optional
Powdered sugar
Whipped cream

INSTRUCTIONS
1. Position an oven shelf to the middle of the oven. Heat the oven to 400 degrees F.
Cover a rimmed baking sheet with foil.

Heavily butter and then sugar a 9-inch glass deep dish pie plate or 7 or 8 cup heatproof baking dish. Set on the prepared baking sheet and set aside.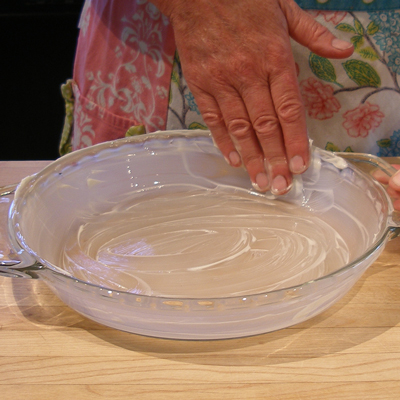 2. Place 1/3 cup sugar, eggs, cream and milk, and vanilla and almond extracts in large bowl.

3. With a hand held mixer, mix on medium speed until smooth.



4. Sift flour over mixture and on low, process just to mix.



5. Set the batter aside to stand 10 minutes so the flour has a chance to absorb the liquid.

6. Meanwhile, cherries or apricots, cut-side down, in the prepared pie plate.

7. When batter has rested, pour it over the apricots. Sprinkle with almonds (optional) and 2 tablespoons sugar.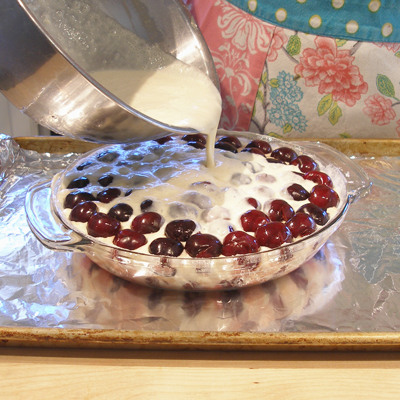 8. Bake until puffed and brown, about 45 minutes. A knife plunged in the center should come out clean.



SERVE
Just before serving, sprinkle with sifted powdered sugar. Serve immediately with whipped cream.

STORAGE
Keep refrigerated.


Bing Cherry Clafoutis or Clafouti

19712 views| 105 comments