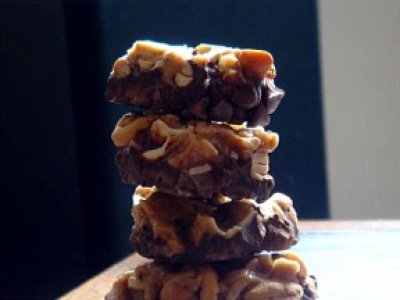 Fudge and photo by sugarpie, Premium Member © Sarah Phillips
I have adapted this recipe from Hershey's. It makes the most delectable combination - chocolate fudge with cashews and macadamia nuts!
CANDY RECIPE HELP
sugarpie, Premium Member, Says: "Cash & mac nut crunch was the biggest hit with my friends. It's a brittle recipe sans the vanilla and baking powder spread onto a layer of milk chocolate chips. The chips melt at first from the hot brittle and then the whole thing cools down to form a chocolate layered brittle ......hmmm."
INGREDIENTS
2 cups (11.5-oz. pkg.) HERSHEY'S Milk Chocolate Chips or semi-sweet chocolate chips
3/4 cup coarsely chopped salted or unsalted cashews
3/4 cup coarsely chopped salted or unsalted macadamia nuts
1/2 cup (1 stick) butter, softened
1/2 cup sugar
2 tablespoons light corn syrup

INSTRUCTIONS
1. Line 9-inch square pan with foil, extending foil over edges of pan; butter foil. Cover bottom of prepared pan with chocolate chips.

2. Combine cashews, macadamia nuts, butter, sugar and corn syrup in large heavy skillet; cook over low heat, stirring constantly, until butter is melted and sugar is dissolved. Increase heat to medium; cook, stirring constantly, until mixture begins to cling together and turns golden brown.

3. Pour mixture over chocolate chips in pan, spreading evenly. Cool. refrigerate until chocolate is firm. Remove from pan; peel off foil. Break into pieces.

STORAGE
Store fudge in a cool, dark, dry place in an airtight container (tin or plastic), between layers of waxed paper or individually wrapped for about 1 to 2 weeks. Fudge stored in an air tight container at room temperature will "ripen" over the first 24 hours. That is, the texture will become creamier and more velvety.
Fudge stored in the refrigerator can last 2-3 weeks when kept in an airtight container.
Fudge left out in the open will last a couple of hours depending upon the foot traffic in the area.
Fudge can also be frozen quite successfully for long term storage, about 3 to 6 months. Just be sure to wrap well in waxed paper, the foil, and placed in an airtight container so it doesn't absorb flavors from the freezer. Thaw fudge in its wrappers and storage container at room temperature. It will take about a day to thaw.