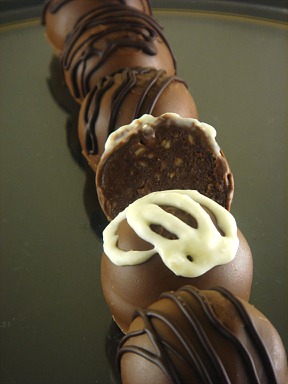 Cake balls and photos by sugarpie , Premium Member © Sarah Phillips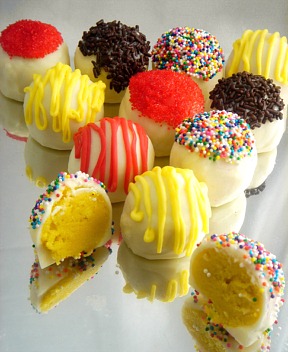 Cake balls and photos by sugarpie, Premium Member © Sarah Phillips
What are Cake Balls?
Cake balls are basically truffles made from cake crumbs and is dipped in candy. You can add any toppings you would like to your cake balls, or leave them as is. They are certainly a crowd pleaser and would be a great dessert at your next gathering.
Cake balls and cake pops are the ultimate way to use up cake scraps. But, they have become so popular in recent years, that many of us have baked cakes just for the sake of making and serving these yummy treats as a dessert.
CAKE RECIPE HELP
See also: Cake Pops 101 Tutorial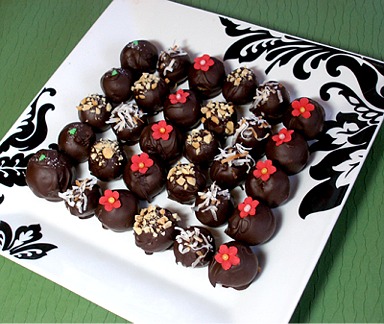 Fancy Cake Balls
KELLY SAYS: "I covered mine with dark chocolate and used various toppings...toasted coconut, chopped salted cashews, fondant flowers (left over from my cupcake extravaganza) and Fleur de sel, with a little candy Christmas tree. I love the whole salty-sweet thing..."
How to Make Cake Balls
INGREDIENTS
2 cups crumbled cake scraps from a sturdy buttercake recipe, such as 1 recipe The Ultimate Butter Cake or UBC
2 tablespoons powdered sugar
2 generous shots of liqueur (amaretto, etc) or flavored coffee creamer
2 tablespoons unsweetened cocoa powder, optional
1/4 cup chopped almonds or nuts, M&Ms, etc, optional

Extra powdered sugar or cocoa powder

INSTRUCTIONS
1. Place cake scraps, powdered sugar, and liqueur in a mixer fitted with a paddle attachment and mix on low speed until the ingredients form a ball. If the mixture seems too dry, add a bit more of the liqueur used to make it moist enough to form into balls.

2. Scoop the dough to form evenly sized balls. I use a tablespoon size cookie scoop to make the balls uniform in size. If you do not have a cookie scoop,
SARAH SAYS: I have also weighed the dough in so I get even sizes, which works well, too.

3. Roll the scooped dough in your hands to form a nice smooth ball. Roll the cake balls in sifted powdered sugar or cocoa. Allow cake balls to set on a parchment-lined cookie sheet in the refrigerator for a couple of hours. They taste great right away, but after a day or two they are even better after all the ingredients have had a chance to meld together.

ENROBE IN CHOCOLATE
If enrobing in chocolate, do so after the cake balls have had a chance to chill or quick freeze until firm. Do not roll the balls in sifted powdered sugar or cocoa powder beforehand.

To enrobe in chocolate: Melt 1 pound of candy melts with a tablespoon of shortening. To keep chocolate fluid while dipping, place in the top of a double boiler with hot water below. If the candy melts start to harden, just place on the stove and heat the water below - make sure there is always enough water in the lower part of the double boiler at all times.

The dipped balls will develop a "foot" at the base after drying. You can trim it off after they have hardened with a sharp knife.

Also, you can decorate the tops with just about anything: sprinkles, candy confetti, candy confetti, chopped nuts, etc before the chocolate sets. Or, after it has dried, drizzle or pipe designs with royal icing or melted candy melts of different colors.

CAKE BALLS #2
You can mix and match any cake flavor and frosting.

INGREDIENTS
1 (18.25 ounce) or similar size package cake mix or 1 recipe The Ultimate Butter Cake or UBC
1 (16 ounce) container prepared frosting or 1 recipe Tami's or Perfect Buttercream, 3-cup variation
1 (3 ounce) bar chocolate flavored confectioners coating, also known as almond bark or melt together the ratio of 3 squares (ounces) of chocolate with 1 1/2 teaspoons of shortening

INSTRUCTIONS
1. Prepare the cake mix according to package directions. Unmold cake and let cool on a wire cake rack. Crumble into a large bowl and stir in the frosting until well blended. You may want to use your hands to mix. Chill mixture for an hour or until it can hold shape when formed into a ball.

2. Use a melon baler or small scoop to form balls. Freeze cake balls after forming and before dipping. (You can place a toothpick in the balls before freezing. You can hold onto it while dipping them in chocolate and remove the toothpick right after.)

3. Melt chocolate coating in the top of a double boiler over simmering water, stirring occasionally until smooth.

4. Dip the balls in chocolate using a toothpick or fork to hold them. Roll into topping of your choice. Place on waxed paper to set.

STORAGE
At room temperature if the frosting recipe is not perishable or the cake ball recipe is not mixed with anything perishable.