Our recipe is just perfect to make Bird's Nest Macaroons from. Serve on a platter or use to top a decorative cake with. They're so easy to make and so much fun!
COOKIE RECIPE HELP
INGREDIENTS
3 1/2 cups sweetened shredded coconut
2/3 cup sweetened condensed milk
1 large egg white
1 1/2 teaspoons vanilla or 1/2 teaspoon almond extract
Pinch of salt
Assorted candy eggs, such as Cadbury Mini Eggs, or jelly beans
INSTRUCTIONS:
1. Position two oven shelves in the middle of the oven; set one in lower third and one in upper third; just do your best to space them out evenly.
Preheat oven to 325 degrees F.
Line two baking sheets with parchment paper or silpat mats.
2. Put the coconut, condensed milk, egg white, vanilla, and salt in a large bowl and mix together until combined.

2. Scoop out the mixture, using a 1 tablespoon cookie scoop, making evenly space mounds on the baking sheet.
Place the mounds 2-inches apart on the sheet.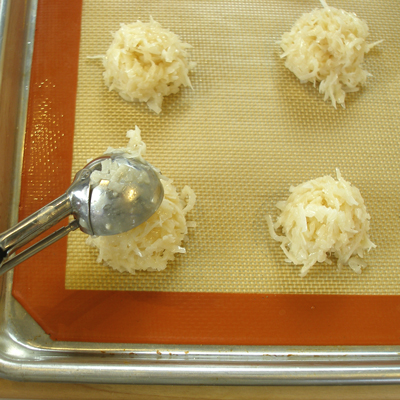 3. Using dampened fingers, form the cookie into nest shapes, about 2-inch across.
Press down the center of the cookie and neaten the edges of the cookies into rounds.
These cookies do not spread, but leave about an inch between each one so they will bake evenly.

4. Bake the nests until the coconut is golden brown, 19 - 21 minutes.

5. When cookies are done baking and still warm, press down the center again, to make space for the candy eggs.
Wait 10 minutes or longer, then remove to a wire cake rack to cool completely.

6. Fill the cooled nests with the candy eggs or jelly beans.

SERVE
Serve the nests as cookies or use them to decorate mini cakes or cupcakes.
STORAGE
Store nests in a covered container, at room temperature for 2-3 days.
Separate the layers with sheets of waxed paper or parchment, so they don't stick together.
The cookies can be frozen for a month or more. Thaw in its container at room temperature.