Bird's Nest from Kataifi (Phyllo or Filo Dough)

We use this Kataifi Bird's Nest in the Mother's Day Coconut Cake Tutorial.
Kataifi is a finely shredded phyllo or filo dough that is used to make Middle Eastern and Mediterranean pastries.
You can find it in the freezer section of a well-stocked supermarket, or you can buy it online. I purchased mine at www.mid-eastpantry.com
The day before you plan on making the nest, place frozen kataifi in the refrigerator, to thaw. Repackage unused phyllo dough and refreeze.
PASTRY RECIPE HELP
INGREDIENTS
1 cup kataifi (phyllo dough), thawed
1 1/2 tablespoons unsalted butter, melted
1 tablespoon sugar
1/4 teaspoon ground cinnamon, optional
INSTRUCTIONS
1. Position the oven shelf to the middle. Preheat the oven to 375 degrees F.

2. Find the end of the kataifi skein and cut off a section of dough, using kitchen shears, approximately 1 cup.

3. Place in a bowl; separate into a loose pile with fingers.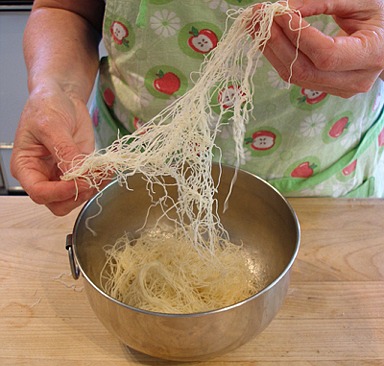 4. Sprinkle the melted butter over the kataifi, and then add the sugar and cinnamon.

5. Toss to evenly distribute the ingredients.

6. Gather a handful of kataifi mixture into your hand and loosely gather it into a round shape.

7. Continue to gather, creating a depression, in the center of the mound, with your thumb.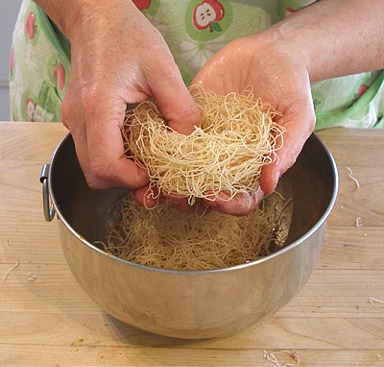 8. Place the nest into a small oven-proof bowl, pressing gently, to form a nest shape.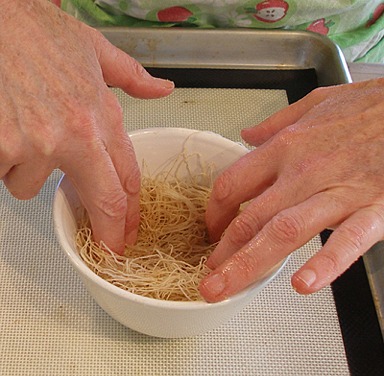 9. Bake the nest until golden and crisp around the edges, 15 to 20 minutes.

Remove from the bowl and set on a wire cake rack to cool thoroughly.

STORAGE
Store baked Kataifi nest in an airtight container in a cool, dry place; it cannot be refrigerated.