Basil Pistachio Parmesan Pesto

This incredible pesto has a key ingredient that makes it stand out: sweet and buttery organic pistachio nuts. Pistachio nuts lend a complex fruity and fragrant flavor, and are beautifully bright green. I like to use California pistachios, but you can certainly use Sicilian pistachios. I also like to add lemon zest and juice to this pesto, as it boosts the flavors and keeps the pesto from turning brown, even if you store it for a while.
What led me to make this with pistachios? I had a huge bunch of fragrant fresh basil and wanted to make pesto, but didn't have any pine nuts on hand, so I decided to make it with the organic pistachios I had in the freezer from a recent trip to the Santa Monica, California farmers' market. I knew they would work because of their wonderful flavor. OMG! I am ALWAYS going to make my pesto this way!
See below for great tips on storing pesto.
Join our Ugly Produce is Beautiful℠ Educational Campaign, helping to bring awareness to our Nation's enormous food waste problem. This recipe shows you how to use ugly and excess produce in a beautiful and delicious way!
VEGETABLE INGREDIENTS HELP
I freeze any leftover pesto in ice cube trays. Once it's frozen, I remove the "cubes" and place them into a resealable plastic bag for freezer storage. That way I can use what I need without having to defrost the whole batch.
INGREDIENTS
1/4 cup natural pistachios, shelled and the brown husk rubbed off; can be salted or unsalted
1 clove garlic or to taste
2 1/2 cups fresh basil leaves, well packed

3/4 cup good olive oil, such as Spanish Olive Oil
1 tablespoon fresh lemon juice
1 tablespoon fresh lemon peel
1/2 teaspoon kosher or regular salt; or to taste
1/2 teaspoon ground white or black pepper; or to taste
1/2 cup freshly grated Parmigiano-Reggiano or Parmesan cheese

NOTES:
Basil: can be sandy. To clean it, remove the leaves, and soak them in a bowl of water, changing it once or twice. Drain in a strainer. Then spin them very dry in a salad spinner. Store them in a closed plastic bag with a slightly damp paper towel. As long as the leaves are dry they will stay green for several days.

Pistachio Nuts: After taking the shells from the pistachio nuts, there is a thin brown husk around them (center in photo). Rub the nut between your thumb and forefinger to remove. Use the green nut (to the left in photo) in the recipe.



SARAH SAYS: Make sure the pistachios you use are plump, natural and fresh. I freeze my nuts for long term storage. You can use them right from the freezer because they thaw so quickly.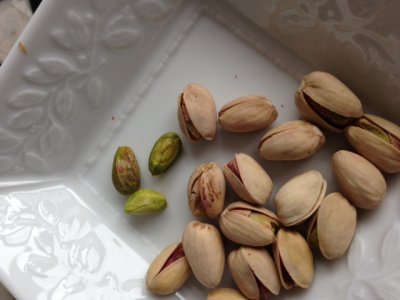 INSTRUCTIONS
1. Place the pistachio nuts, and garlic in the bowl of a food processor fitted with a steel blade.
Pulse for 30 seconds to 1 minute until a fine grind. Stop to scrape down the sides of the bowl.
2. Add the basil leaves. With the processor running, slowly pour the olive oil into the bowl through the feed tube.
Process until the basil / pesto is thoroughly pureed. Stop to scrape down the sides of the bowl occasionally.

3. Add the lemon juice, lemon peel, salt, and pepper, and Parmigiano-Reggiano or Parmesan cheese and pulse the food processor for about a minute, or until thoroughly blended.

SERVE
Use right away over pasta or with grilled chicken or fish.
SARAH SAYS: When using over just cooked pasta, I like to warm it slightly on the stovetop under low heat, stirring often. Do not let it boil. Toss with strained pasta, and serve right away.
STORAGE
Store the pesto in the refrigerator or freezer with a thin film of olive oil on top. It will keep for a few days. Stir before using.

For freezing, pack it in containers with a film of oil or plastic wrap directly on top with the air pressed out. It will keep for a month or so. Thaw in the refrigerator or warm from a frozen state on the stovetop, under low heat.