There are hundreds of types of flatbread recipes (flat breads) made worldwide and their primary attribute is low height. This is a basic yeasted one, and when baked, is crispier than chewy pizza dough. We use it with our Grilled Vegetable Flatbread recipe. It's simple to make and really delicious; we show you how to make it step-by-step. I know that you'll love it because it's practically no fail!
BREAD RECIPE HELP
INGREDIENTS
1 1/2 cups warm water, about 105-115 degrees F
2 teaspoons mild honey
2 1/4 teaspoons active dry yeast
2 tablespoons extra virgin olive oil
3 1/2 to 4 cups unbleached all-purpose flour, plus more, if needed; spoon into measuring cup and level to rim
2 teaspoons salt
INSTRUCTIONS
Proof the yeast:
1. Sprinkle the yeast evenly over the water mixture, and let sit for a few seconds to hydrate.
Stir until combined.



Stir in the honey.



2. Set the yeast mixture aside for 5 minutes. It should be slightly foamy.
3. Add the olive oil, and stir.

Mix the flatbread. Knead and let rise:
1. Sift 3 1/2 CUPS of the flour and salt into the bowl of a stand mixer.

2. Clamp the bowl on the mixer, fitted with the dough hook attachment, and turn the mixer on low.
Slowly add the dissolved yeast mixture at the side of the bowl.

3. When all of the dissolved yeast mixture has been added, turn the mixer on medium high, and knead the dough for 6 minutes.
The dough should start to pull away from the sides of the bowl. If the dough is too sticky, add enough of the remaining 1/2 cup of flour, one tablespoon at a time, until it wraps around the dough hook and pulls away from the sides of the bowl.
More or less flour may be needed.

4. Scrape dough out on a floured work surface and knead for a few minutes, until the dough is smooth and elastic.
Form the dough into a ball.

5. Lightly oil a large bowl and place the dough in the bowl. Turn the ball of dough over, so it is oiled all over.
Place a sheet of plastic wrap on the bowl and set aside in a warm place to rise until doubled, about an hour.

6. Use in the dough in the recipe: Grilled Vegetable Flatbread recipe

In general:
1. Punch down the dough, then cut it in half with a bench scraper.
Place one section of dough back in the bowl and cover the bowl with plastic wrap.

2. Lightly flour your work surface.
Press remaining section of dough into a rough square, then roll it out to a 13- x 13-inch square.
Dough will be quite thin.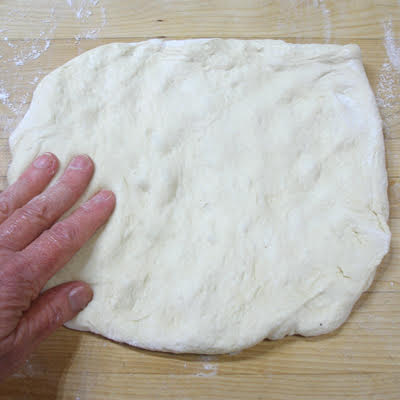 3. Fold dough in half, and transfer it to a 15- x 15-inch piece of parchment.
Unfold the dough, and re-stretch the dough into a square.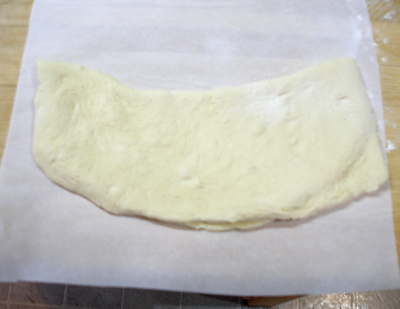 4. Use in the recipe.

STORAGE
Before the dough has risen during the first rise, it can be frozen, well-wrapped for a month or more.
Thaw and let rise in a warm place before proceeding in the recipe.
Or, the dough can be shaped into a square, in the last step, and frozen, well-wrapped for a month or more.
Do not let thaw before use. Proceed directly to the recipe.