Baked Blueberry Pancakes with Maple Cream Drizzle
Kraft Foods asked me to come up with an Easter brunch recipe using their Philadelphia Brand cream cheese. I thought it would be fun to create a recipe for Baked Blueberry Pancakes with Maple Cream. With this, it's no more your having to stand over the stove cooking while your friends and family have fun in the other room - the pancake batter bakes like muffins in the oven, and as soon as they come out, drizzle them with my homemade Maple Cream topping, and serve!
QUICK-BREAD RECIPE HELP
INGREDIENTS
For the pancakes:
3 cups unbleached all-purpose flour; spoon into dry measuring cup and level to rim
4 teaspoons baking powder
1 teaspoon ground cinnamon
1/2 teaspoon salt
2 cups whole or 2% milk
2 large eggs
1/4 cup plus 2 tablespoons sugar
1/4 cup plus 2 tablespoons (6 tablespoons) melted butter, cooled to tepid
1 teaspoon grated lemon peel, optional
1/2 teaspoon vanilla extract
1 cup blueberries, plus more for scattering on top of pancakes
For the maple cream drizzle:
1/4 cup (1/2 stick) butter, softened
8 ounces cream cheese, room temperature; Philadelphia brand preferred
1 tablespoon sugar
1/4 cup pure maple syrup, preferably Grade B
1 teaspoon vanilla extract
1/4 teaspoon salt
3 tablespoons powdered sugar, more if needed
2 teaspoons milk, whole or 2%, more if needed
INSTRUCTIONS
STEP I: MAKE THE BAKED BLUEBERRY PANCAKES
1. Position the oven shelves in the upper and lower thirds of the oven. Heat the oven to 350 degrees F.
Spray one 12 cup and one 6 cup standard-size muffin tins with nonstick oil. Set aside.
2. In a medium-size mixing bowl, combine the flour, baking powder, cinnamon, and salt. Make a well in the center.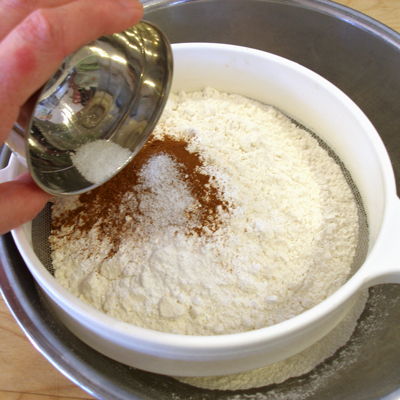 3. In another medium bowl, whisk together the milk, eggs, sugar, butter, lemon peel, and vanilla.

4. Pour in the milk mixture into the well of the flour ingredients. Mix until just combined into a thick batter that should be slightly lumpy and not smooth.
Fold in the blueberries.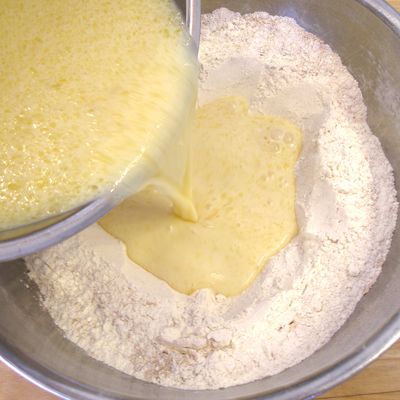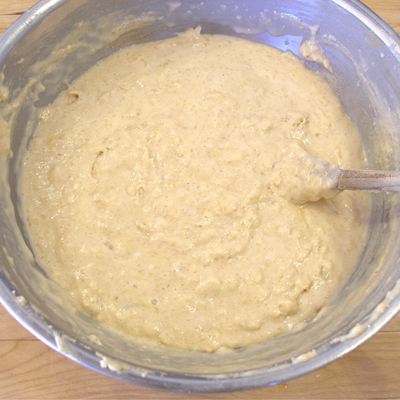 5. Fill the 18 prepared muffin tins 3/4 full with batter.
Scatter a few blueberries on top of the pancakes.

6. Bake for 20 to 22 minutes, or until the pancakes spring back when lightly pressed in the middle.

7. Remove the pancakes from their muffin tins while still hot.

STEP II: MAKE THE MAPLE CREAM GLAZE
Make the glaze while the pancakes are baking.
1. In a medium size bowl, with a hand held mixer, soften the butter. Then add the cream cheese and beat until smooth.
Make sure to scrape down the sides of the bowl.

2. Add the sugar, maple syrup, vanilla, and salt, beat until smooth.

3. Slowly add the powdered sugar until the mixture thickens. Add milk until a pouring consistency, like honey, occurs.

4. Put finished glaze in a squeeze bottle or a heavy duty zip-top plastic bag.
SERVE
1. When the pancakes are done baking and still warm, squeeze a generous amount of glaze on them.
If using a zip-top bag, just snip a small hole in one corner to drizzle the glaze on the pancakes.
2. Serve immediately.

STORAGE
The Maple Cream Glaze must remain refrigerated; it will keep for a few days. The glazed pancakes can be stored in refrigeration for a few days.
Reheat pancakes in the microwave at 50% power for 10 seconds at a time.