Cakes and Frosting, Icing, etc.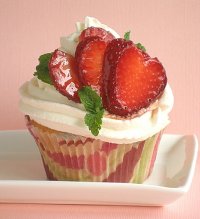 The proper storage of ingredients and baked goods are essential to food safety.
Click the Food Storage Chart for Cupboard/Pantry, Refrigerator, and Freezer to learn how long you may keep many items found in your kitchen/pantry.
SARAH SAYS: With every CraftyBaking.com recipe, we have carefully researched and have indicated the proper storage guidelines.
If you have any baking or recipe questions, please post them in our Forum, where they will be answered shortly.

TYPES
Cakes and cupcakes are always stored according to their type, below. But, what they are filled and frosted with, dictates their overall storage requirements: Storage - Frosting, Icing, Etc.
Storing Cakes and cupcakes, unfrosted, in general: at room temperature at around 68 to 70 degrees F. Cool completely on wire cake racks before storing.
Butter layer cakes or sponge cake with syrup: 3 days at room temperature, 5 to 7 days refrigerated (ONLY if humid or contains perishable filling and frosting), and 3 months frozen
Butter or oil layer cakes: 1 to 2 days at room temperature, 3 to 5 days refrigerated (ONLY if humid or contains perishable filling and frosting), and 3 months frozen
Cheesecakes: 5 to 7 days refrigerated, and 3 months frozen
Cupcakes (Butter cakes): 1 to 2 days at room temperature, 3 to 5 days refrigerated (ONLY if humid or contains perishable filling and frosting), and 3 months frozen
Flourless nut tortes: 2 days at room temperature, 3 days refrigerated (ONLY if humid or contains perishable filling and frosting), and 3 weeks frozen