Easier to bake than cookies, bar cookies, such as brownies or blondies, are a totable, simple goodie few can resist. The most versatile of all, bar cookie recipes are made essentially by mixing the ingredients in one bowl, baking the batter in one pan, and then cooling and then serving right from the pan. Bar cookie recipes are abundant and are usually made with ingredients easily on hand.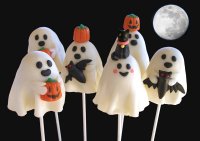 Bar cookie recipes are basic, but not bland or boring and are always filled with flavor. They come in all sorts of shapes and textures, such as thin and crisp, soft and cakelike such as the Cakey Brownies or thick and chewy, such as the Thick Chocolate Fudge Brownies or the Chocolate Frosted Chewy Brownies.
Some bar cookies are quite fancy, such as the Chocolate Raspberry Truffle Brownies or the Fudge Puddle "Brownies" baked in a tart pan with a caramel or mocha variation. Bars cookies can also be layered as in the Layered Apricot Bar Recipe. There are also no-bake bar cookie recipes.
Bar cookies are easy to store. They can be covered in their pan or wrapped individually where they will remain very good for 3 to 4 days stored at room temperature. If bar cookies contain perishable items, bar cookies can be refrigerated for up to 5 days. Most bar cookies freeze well, too.
QUESTION: I have made lemon bars for some time now, and lately, they have not had much of a lemon flavor and seem to be a "muddy" yellow instead of a "clear" yellow. My recipe simply is just mixing the eggs, sugar, flour, lemon juice, etc. and then baking. Can lemons have fewer flavors than others? And, how do you adjust that each time? Or, could one of my other ingredients be affecting the outcome?
SARAH SAYS: Depending on the time of the season, the weather, the variety of lemon... lemons can vary in citric acid from as low as 2.5% to as much as 4.5%. The citric acid is what is perceived as "lemon." Commercially available lemon juice is standardized to 4.0% citric acid. Most natural ingredients will vary so you may need to add a little more lemon juice... or just make sure the lemons you are using will give you the flavor you are looking for ... or add a dash of the commercially standardized lemon juice to boost the citric acid which will give it the lemon flavor.