Cakes Introduction: What is Cake?
There are many different types of cake recipes and numerous ways of categorizing them. The general classification used is whether or not they contain fat, also known as shortening (not the be confused solely with just processed shortening), and are called: SHORTENED (BUTTER OR OIL) CAKES or UNSHORTENED (FOAM) CAKES. Chiffon cakes make up the third category, but here they're often included with unshortened (foam) cakes.
MORE CAKES: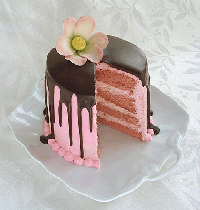 A basic flour mixture serves as the foundation for sweet and rich cakes and what are known as little cakes, called cookies, and their savory cousins being quick-breads and yeast breads. Basic ingredients for made-from-scratch cake recipes often include flour, sweetener (sugar), fat (butter, vegetable oil), liquid (milk), leavening agent (steam, beaten eggs, baking powder and/or baking soda), and flavorings (salt, vanilla extract). Cakes can also be purchased ready-made or baked with packaged mixes that come ready to be combined with water, eggs and vegetable oil.

Cakes lend themselves to limitless variations depending on the proportion of their ingredients, the way they are mixed, flavorings added to the basic ingredients, the shapes of the pans used in baking, and cooling and storing methods. Any number of fillings, frosting and final decorations can be chosen to make every cake unique and an artistic expression of its maker.

Cakes have around since the time of the ancient Egyptians, and are believed to have been more like sweetened bread with the addition of honey, nuts and dried fruits than like the cake we know today. (It may also may refer to any round, flat disk of food, such as a pancake or even a yeasted sweet (coffee) cake, discussed in other sections.) The precursors of modern-day cakes did not emerge until around the mid 17th century in Europe, with the advent of more sophisticated ovens. As technology advanced, cake baking evolved. More refined and delicate cakes were the result of ovens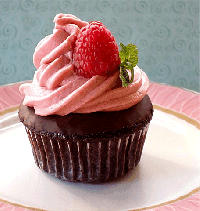 that more reliably maintained specific and even temperatures. Better mixers and pans, and ingredients such as refined sugar and flour also helped produce a higher quality cake. The dense European Pound Cake consisted of equal weight flour, sugar, butter and eggs, while the light and airy European Sponge Cake relied on beaten eggs or egg whites for leavening.

When chemical leavening (baking powder and baking soda), was discovered in Europe in the mid-19th century, it became possible to replace some of the egg in the pound cake with liquids like milk, giving rise to the present day American Butter Cake. The Chiffon Cake, a cross between the old-style European Sponge Cake (with beaten egg white) and the American Butter Cake (with the addition of chemical leavening) was the invention of an American aptly named Harry Baker, a Los Angeles insurance salesman.
Some information from Rose Levy Beranbaum
CAKE BAKING AT CRAFTYBAKING.COM
A typical scenario for a home baker is to buy a cookbook from a well-known baking professional, thinking that if they follow the cake recipe to a tee, use expensive ingredients and equipment, bake the recipe with a well-calibrated oven, everything will turn out fine.

The same expectation of success exists when you select a popular cake recipe from a free website, judged by a landslide of others with five stars with superlative remarks!

But, then your cake fails. Why? Are you the only one? Did you do something wrong?

No, you are not alone!

What happened is a classic occurrence! It is not a simple matter of just following the cake recipe's instructions from a professional or a free, well-ranked website – cake baking is both an art and an exact science and there are so many different types of cake with their own unique ingredients, mixing and baking techniques and methods, pans and nuances. Plus, not all cake recipes are well-written so that if you make tiny errors, such as in measuring, mixing or bak
ing, which we all do, the cake won't bake properly!

You think the recipe or book gives you all of the information you need to bake a successful cake. Think, again. It doesn't come close. And, the recipe, itself, may not be well-written so that it fails more than it succeeds. Sometimes, if written by a professional chef, it won't work in a home environment because the equipment and baker's viewpoint and expertise is vastly different from yours.

CraftyBaking.com gives you a complete understanding of how baking works and what to look for as you when making a cake, by type, no matter what the recipe instructs. Plus, we give you foolproof step-by-step recipes, with color photos, with an understanding of WHY and HOW something works the way it does, so you can't and won't fail!

In addition, you can ask questions on the ASK SARAH FORUM along the way and get professional answers from an expert, Sarah Phillips, who has worked with home bakers for over 20 years, backed by a strong community of bakers.

SARAH SAYS: We at CraftyBaking.com create and test all of our recipes; you can be assured that our cakes bake over-and-over, again. Many of our recipes are multple years old, as we were founded in the year 2000. They have been posted on our previous website versions, published in cookbooks, newspaper
articles and have baked by hundreds of our bakers before you, with comments, questions and answers posted with each one.

With each recipe, we specify detailed information about each ingredient, its type, temperature, how to measure it, how long to mix it, and all the information you need to know to make a successful recipe.

CAKE BAKER TYPES
There are several types of bakers, and their cakes can be made in various ways.

T
here is the bake-from-scratch baker. Flour, leaveners, salt, sugar, butter, eggs, and milk, can be made into numerous cake variations depending on their ingredient types, proportions and temperatures, the way they are mixed, baked and cooled. Some turn out dense, some light and airy, others moist and some whose textures are perfect for flavored soaking syrups. Generally, scratch cakes take more than one bowl to make and take specialized technical baking skills to complete.

There is the bake from a boxed-mix baker. Many also like to add in additional ingredients such as more flour, eggs, pudding and sugar, to help make the cake denser, create other flavors, or to make hundreds of variations. The cakes are pretty much mixed the same way, use one bowl and mixed following one technique. The result is typically light and fluffy, airy and somewhat consistent in texture and look, with a slightly domed top.

There are those cake bakers who assemble cake-desserts with already-made store-bought cakes, layering it with fruit and whipped cream or layering it in a glass bowl with fruit sauce and custard.

And, some cake bakers are a hybrid of all types – they bake from scratch, bake with mixes and assemble already-made cakes for their family and guests!

Every type of cake baker seems to have his or her own taste preference and cake-texture expectation. The cake-mix lovers often do not like bake-from-scratch cakes because they find them denser, often taking more chewy bites to complete, or they bake flatter, without a dome, if properly formulated, and wonder what they did wrong with the recipe when it happens.


The bake-from-scratch cake lovers wouldn't dare make anything from a mix because it means they "cheated" and gave way to commercialism; they simply do not like the chemical taste from mixes and feel as though the whole experience and art of baking a cake is lost when using a mix.

What I have set out to develop are recipes for all kinds of cake lovers. I have a wide range of them; some even called Scratch Yellow or Chocolate Cake with Box Qualities, for those who like their cake texture similar to a boxed-mix! I have a Scratch Cake from a Mix, a much-improved way of baking a cake from a mix, in all flavors, which doesn't taste like you have used a boxed mix! I have all of the classics, too.