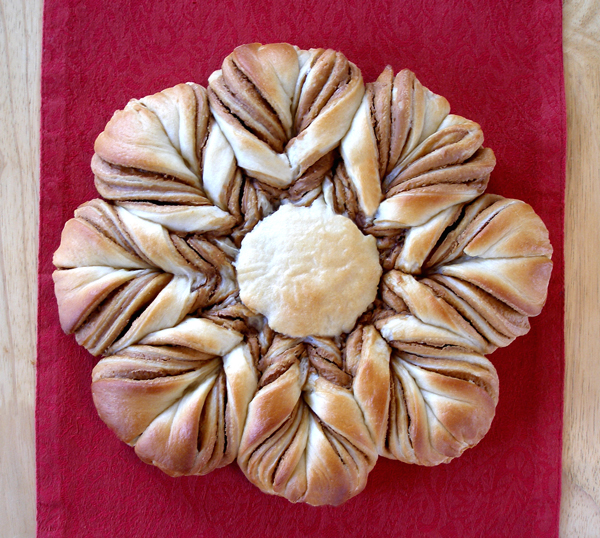 Yeasted sweet bread or dough recipes call for a much larger proportion of sugar than a basic bread recipe, and usually have butter, eggs, and/or oil. The result is softer and richer recipes. 

With so much sugar available, the science of yeast dictates that it would grow uncontrollably. Yes, the yeast does "overdoses" on the sugar, and hence, it takes a significantly longer time to rise or double the bulk of the dough. To compensate for this problem, most sweet dough recipes specify twice the usual amount of yeast, and/ or call for a short rise and not having to rise until double in size.


BEIGNETS: The word beignet (pronounced bey-YAY) comes from the early Celtic word bigne meaning "to raise." It is also French for "fritter." Beignets, a New Orleans specialty, are fried, raised pieces of yeast dough, usually about 2 inches in diameter or 2 inches square. After being fried, they are sprinkled with powdered sugar or coated with various icings.

Beignets are like a sweet doughnut, but the beignet is square shaped and without a hole. Beignets are considered the forerunners of the raised doughnut.

The French colonists of the 18th century brought the recipe and custom of making beignets to New Orleans. Some historians believe that the Ursuline Nuns of France, who came to Louisiana in 1727, brought this simple pastry to New Orleans, but this is not based on any facts. According to the 1902 Picayune Creole Cook Book, published by "The Picayune," a leading New Orleans newspaper:
"The ancient French colonist brought the custom of serving sweet entrements and eatres, such as Beignets, Compotes, Souffles, Gelees, etc., from the old mother country to Louisiana. The Creoles applied these to the various delightful and refreshing fruits, which abound in Louisiana . . . The custom of serving these sweet entrements spread from New Orleans to other portions of the United States, till now no fastidious chef would think of keeping a fashionable hotel or restaurant with including some of these in the daily bill of fare."

BABA OR BABKA OR BOBKA: is a sweet yeast bread or cake with a long history, and variations of it are found in many European countries. According to the food historians baba doughs range from simple yeast-based mixtures to complicated alcohol-drenched pastry, richer than Brioche dough. The origin of this item (while sketchy) is generally attributed to Slavic peoples. Plenty of legends surround the introduction/invention of "Baba au Rhum." Not so for basic baba.


"Baba. A sweetened bread or cake made from a rich dough, baked in tall, cylindrical moulds. The shape is Slavic in origin, and of great antiquity... The word means 'old woman' or 'grandmother' and refers to the vertical form, and anthopomorphic usage similar to the derivation of pretzel and bracelli, because the twist of dough resembles folded arms...If the shape is Slavic in origin, the same may not be true of the actual recipe--it has been suggested by Lesley Chamberlain...that this came from Italy: "The recipe for it probably came to Poland from Italy in the sixteenth century via Queen Bona, as a transplant of the Milanese panettone.
Savella Stechishin...says that baba or babka is one of the most distinctive of all Ukranian breads, traditionally served at Easter. The name 'baba' is the colloquial Ukranian word for woman or grandma, while 'babka' is a diminutive of the same word. (The name 'babka' is more commonly used, as the modern loaves are smaller and the name sounds dantier.)...Stechishin speculates that the baba-bread may have originated in prehistoric times when a matriarchal system existed in the Ukraine...the baba's homeland is generally regarded as being W. Russia and Poland. It is related to other Russian festive breads of cakes, such as Easter kulich...or the krendal which is baked in a figure-of-eight shape to celebrate name days. They, however, are fortified with dried fruits and nuts, while the baba was originaly plain. Polish and Ukranian recipes commonly include other flavors (from ingredients such as saffron, almond, cheese, raisins).
Other additions, noticeable in the Baba au rhum and other versions which are now part of the international repertoire, consist in adding dried fruits and...soaking the cake in an alcoholic syrup...after it has been made. These changes seem to have been made in France after the baba emigrated westwards to Alsace and Lorraine. This had happened in 1767 (when the term first appears as a French word) and the baba eventaully became a well-known French confection...To make a baba, yeast is mixed to a liquid batter with flour, eggs, and milk; this is allowed to rise, and then melted butter is beaten in. As for other yeast-risen cakes, much beating is necessary to impart air to the mixture. More eggs are used than in a brioche dough...and the recipe delays the addition of butter until after the first rise to enable the yeast to work to its full effect."
---Oxford Companion to Food, Alan Davidson [Oxford University Press:Oxford] 1999 (p. 46-7)


BRIOCHE: is an elegant yeasted dough, a cross between bread and pastry. It is rich with butter and eggs and just a little sweet. In France, Brioche is baked in several forms, the Parrisienne, or tete, and the Nanterre, or loaf. The classic top-knotted shape, Brioche à tête is the most popular presentation. They rise in fluted tins, with a large ball of dough placed on the bottom, topped with a ball of dough 1/3 that weight to form the head (tête). The soft, golden loaves are sliced for breakfast or made into rich French toast, or even toasted and served as a dessert with Banana Schmutz and Creme Chantilly.


COFFEE CAKES: Coffee cakes (coffecakes) can be made from sweet yeast doughs. They can also be made as quick breads, leavened with chemical leaveners or baking powder and/or soda.

DANUTS AKA CRONUTS: The wildly popular "Cronuts" have taken New York City by storm. The Cronut is the invention of pastry chef Dominique Ansel, of his Dominique Ansel Bakery, who says that it is a cross between a croissant and a donut (doughnut).


We wracked our brains to find a laminated pastry dough (similar to, but different than croissant dough) that would hold-up well to frying, plus would have the flaky layers so prominent in the original Cronut version. We tried several laminated pastry doughs, including the Croissant - which did not work well - and finally used our own perfect recipe that held-up well to frying, and did not fall apart and become soggy in the hot oil.


The result is our less-labor intensive, what we call our Danut recipe, resulting in crispy layers of pastry on the outside, while being light and airy on the inside. Ours is filled with homemade Vanilla Pastry Cream, topped with a swirl of vanilla icing and garnished with edible candied lemon peel and a single red sugar pearl.


DOUGHNUTS OR DONUTS: Yeasted or raised doughnut(s) are made from sweet dough and are leavened with yeast. As a result, they are lighter in texture than chemically-raised (baking powder and/or baking soda) doughnuts, which are a type of quick-bread.

Yeast raised require several hours to produce, and are typically deep fried in fat, such as the Homemade Old-Fashioned Doughnuts or Donuts, but can be baked in the oven with the Baked Yeast Doughnuts or Donuts Recipe. Bomboloni are the fried yeast doughnuts found in many a Florentine (Italian) café and pastry shops. Variations of doughnut recipes are found around the world.

PANNETONE: Originally from Milan, Panettone, this sweet bread dessert is typically enjoyed in Italy throughout the holiday season, specifically around Christmas and New Years. Each year, Italian bakers produce over 115 million Pannetone cakes for Christmas! Try our Perfect and Classic Pannetone Recipe.


WAFFLES (AND PANCAKES): Most waffles (and pancakes) are quick breads, which use a quick leavening agent such as baking powder and baking soda. However, some recipes use a yeast-raised or a pre-ferment. The Liège waffle (from the city of Liège, in eastern Belgium) is a sweeter, richer, denser, chewier and smaller version of the regular Belgium waffles, so you can hold them in your hands while Brussels waffles are eaten from a plate with a fork and knife. Invented by the chef of the prince-bishop of Liège in the 18th century as an adaptation of brioche bread dough, it features chunks of pearl sugar, which caramelizes on the outside of the waffle when baked.