Both granulated and powdered sugar can be tinted in a rainbow of colors. It is an easy way to decorate and adds a special decorative touch to cakes, cupcakes, cookies and other desserts.

Sanding Sugar that you can buy already tinted, is great for decorating, adding sparkle to recipes.

Sugar can be applied to baking recipes for decorating, before or after baking.
This technique is used with the: Pumpkin Pielettes Recipe

HOW TO TIPS:
We recommend using gel food paste colors, as opposed to liquid ones.

INGREDIENTS
1/2 cup granulated table sugar
1 to 2 drops orange gel food coloring

INSTRUCTIONS
1. Place sugar in a small reclosable plastic bag.

2. Add one drop gel food coloring. Do not to add any more because you will dissolve the sugar.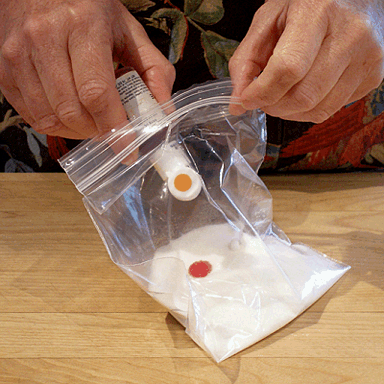 3. Massage the bag until the sugar is uniform in color. If you want a deeper orange, add a second drop of color and massage the bag.



4. Pour colored sugar in a small bowl and set aside.



NOTE: The resulting colored sugar will be slightly moist. Stir the mixture occasionally to help it dry out.

HOW TO TINT POWDERED SUGAR
For powdered sugar that you are going as a powder, Decorating Dusts are the best choice. Bend it in with the sugar and use.

Food coloring can be used to tint powdered sugar that is dissolved when it is mixed with a small amount of liquid, such as milk or freshly squeezed lemon juice, or for use in a frosting. Then, liquid or gel food coloring is added to the recipe achieve the desired color; it will not result in colored, individual granules.