Coconut - Crack and Grate
It's SO worth the extra effort to add freshly grated coconut to a recipe. After grating, it can be toasted.
Pick a coconut that is heavy for its size, and shake it -- you should hear liquid sloshing around. The more, the fresher it is. Don't select ones with damp or moldy eyes or cracked shells. Whole coconuts can be stored for 1 month at room temperature.

This how to baking technique is used with the:

Fresh Coconut Rustic Tarts Recipe

HOW TO TIPS:
Prepare the Coconut:
1. Position an oven shelf to the middle of the oven.
Heat the oven to 350 degrees F.
2. Using a screwdriver and hammer, pierce the eyes of the coconut, and drain the liquid into a container.



3. Place coconut on a rimmed baking sheet and bake the coconut for 20-30 minutes, or until it cracks.

4. Wrap the coconut in a kitchen towel, and tap it with a hammer until it breaks open.



5. The meat should now easily pull away from the shell.
Use a butter knife to help pop it off the shell.



6. Use a vegetable peeler to remove the brown skin from the white coconut meat.
Then break the meat into pieces small enough to fit into the feed tube of a food processor.​
If you do not have a food processor, you may use a box grater.



Grate the coconut meat:
1. Grate the meat, using the fine grating disk in a food processor.
NOTE: If you do not have a food processor, you may grate the coconut on the fine holes with a box grater.



2. Measure out the grated coconut, typically packed in a metal measuring cup for use in the recipe.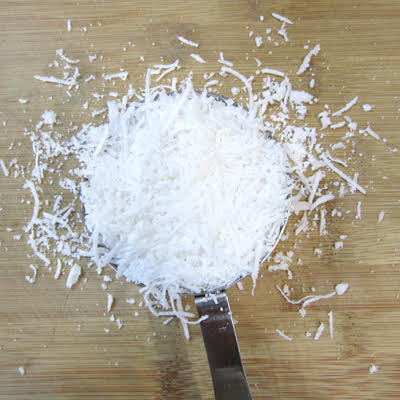 STORAGE
Place the grated coconut in a resealable plastic bag, or lidded plastic container and store in the refrigerator for up to a week.
For longer storage, freeze it for up to a month or more.