Decorating with chocolate can take any form or shape. We decorated our Red Velvet Peppermint Ice Cream Chocolate Glazed Cake Roll​ with Fancy Chocolate Stars. We include a Fancy Stars Piping Template so you can make your own, and adorn your cake with them just as we have.

HOW TO TIPS:
INGREDIENTS
1/2 cup red Wilton candy melts
1/2 cup blue Wilton candy melts
1/2 cup speckled Wilton candy melts
1 tablespoon shortening
3 squeeze bottles with fine tips

Fancy Stars Piping Template; Download and print on paper
INSTRUCTIONS
1. While the cake is in the freezer, melt each color of candy melts in 3 small bowls according to the directions on the package.
2. Add 1/2 teaspoon shortening and stir until completely melted. Check to make sure that the mixture flows nicely, if not, add a LITTLE more shortening, and stir it in.



3. Place each color in a squeeze bottle.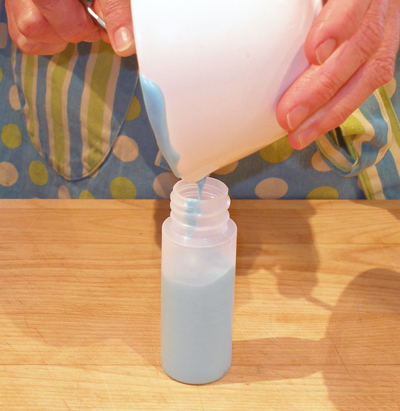 4. Tape the Fancy Starts Piping Template to a flat baking sheet, then tape a piece of waxed paper over it.
Pipe the outlines of the stars with the colors of your choice.



5. Let the melts set up a little (a few minutes), then pipe the centers of the stars.
Use a toothpick to make sure all the points of the stars are filled, then gently tap the baking sheet, to level the melts.
Continue in this manner until all the stars are outlined and filled.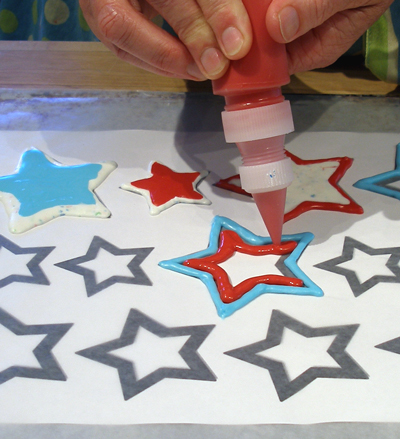 6. Place the baking sheet in the refrigerator for about 15 minutes, to set the melts.
After the melts are set, gently peel them away from the waxed paper and place them on a large plate, bottom side up.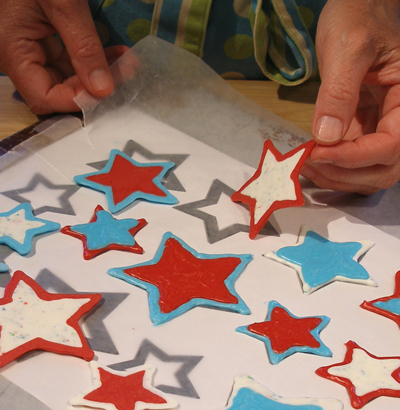 Finish the cake:
1. Ten minutes before you want to serve the cake, begin laying out the stars on the top of the cake.

2. Make sure to place the flat side(the side that was against the waxed paper) of the stars toward the front of the cake, because they are prettier than the other side.
Take a star decide where you want to place it, then gently press in into the icing or frosting to create two marks.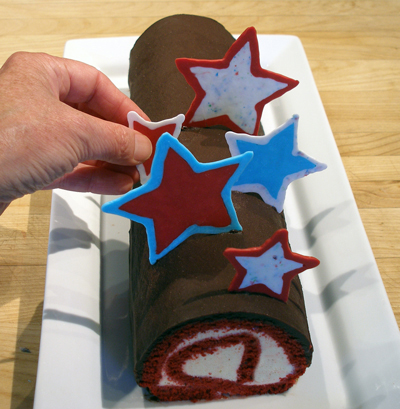 3. Make two small cuts in the cake, using a sharp pointed knife.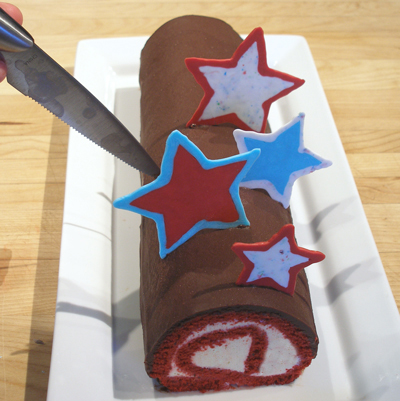 4. Gently press the star in place, until it can stand on its own. Continue placing the stars on the cake, varying sizes and colors to create a lively design.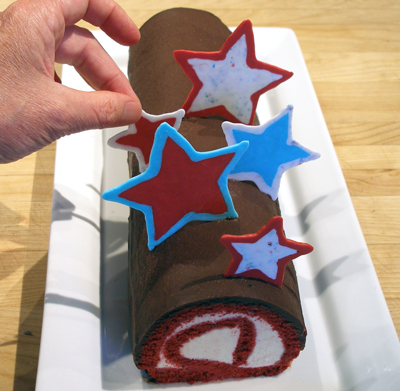 SERVE
Serve immediately. After showcasing the whole cake, cut into slices.