How to Make Chocolate Curls and Shavings
Chocolate Curls and Shavings
Chocolate curls are an easy way to decorate any dessert, and can be made with a vegetable peeler from a block of chocolate or from melted chocolate. For best results, use dark sweetened or semi-sweet chocolate insted of softer milk or white chocolate.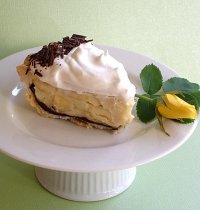 Chocolate Curls Made with a Vegetable Peeler: We use this technique with the Banana Cream Chocolate Ganache Pie Recipe.
How to Make Chocolate Curls and Shavings
HOW TO TIPS:
1. Use a block or large piece of chocolate.

2. Make sure the chocolate is slightly warmer than room temperature.

If making curls from a solid 2-inch chunk of chocolate, place it on a microwaveable plate and microwave it on low power for 5-second intervals until it is barely warm.
3. Use a vegetable peeler to make chocolate curls. Just run it over the edge of your chocolate.

NOTE: To make long chocolate ruffles, drag the top edge of the tip of the knife across the chocolate to create decorative chocolate shavings.
STORAGE
Set the chocolate curls aside in a cool place until needed.
If room is especially warm, cover bowl and refrigerate until needed. Once cold, take care when handling because the curls will shatter easily.


Chocolate Curls Made with Melted Chocolate: We use this technique with the Black Forest Cherry Cake (Schwarzwalder Kirschtorte) Recipe

HOW TO TIPS:
Makes about 1 cup

INGREDIENTS
4 ounces bittersweet chocolate, chopped into 1/4-inch evenly sized pieces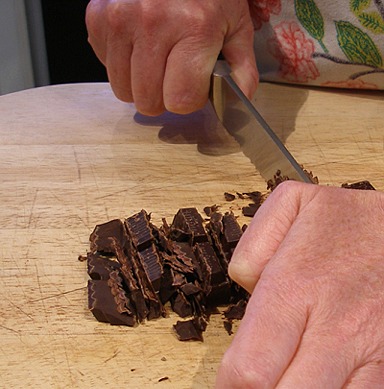 INSTRUCTIONS
1. Melt chocolate over a double boiler, over previously simmering water, until ALMOST melted, stirring constantly. Remove from heat and stir until melted.
Or, microwave at 50% power on HIGH for 30 seconds at a time and stir after each session, until melted.

2. With an large offset icing spatula, spread the melted chocolate out on the back of the baking sheet.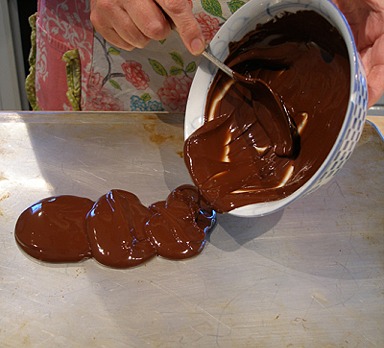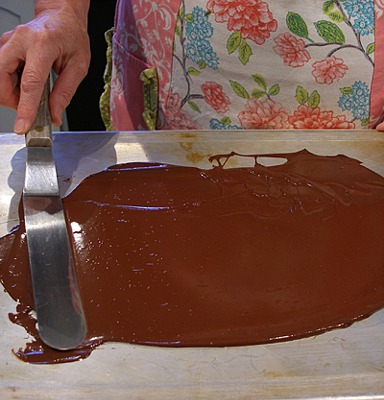 3. Set aside at the cool side of room temperature for about 20 minutes until the sheen is off the chocolate. The chocolate should NOT be fully set.

4. Then, use a bench scraper or the edge of a sharp knife to scrape against the chocolate to make the curls.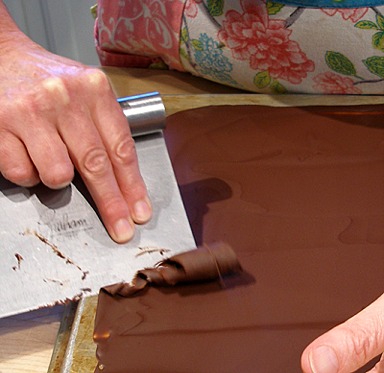 STORAGE
If the room is warm, chill momentarily in the refrigerator until needed in the recipe.
Take out of the refrigerator about 10 minutes before using to warm slightly.
For best and long term storage, store in an airtight container at the cool side of room temperature.