Chocolate - "Bark" Shards
Chocolate "Bark" Shards are an easy way to decorate any dessert.

We use this technique with the Gluten-Free Buche de Noel or Christmas Yule Log Cake Recipe

HOW TO TIPS:
INGREDIENTS
5 ounces bittersweet chocolate, chopped finely or chocolate chips (not milk chocolate)

INSTRUCTIONS
1. Place a piece of parchment paper on the backside of a large rimmed baking sheet. Set aside.

2. Chop chocolate finely with a large chef's knife.

3. Place chocolate in a medium size microwave-safe bowl. Microwave, at 50% power, for about 40 seconds. Stir.
Return to microwave and continue to heat at 50% power for another 30 seconds or until the chocolate is almost .
Remove bowl and stir the chocolate thoroughly until melted and smooth.
NO NOT overheat the chocolate!

4. Pour chocolate onto the parchment paper and immediately spread it out, in a thin even layer, with a large offset spatula.

NOTE: If the chocolate stiffens before you finish spreading it, warm the cookie tray over already simmered water.

5. Place baking sheet, with the chocolate, into the refrigerator to set, about a 1/2 hour.

6. Remove the chocolate "bark" from the refrigerator, and break it up into long shards, by crunching up the parchment paper.
The chocolate is very thin so all it takes is one or two times. Do not break the chocolate up with your hands because the heat of your fingers will melt the chocolate.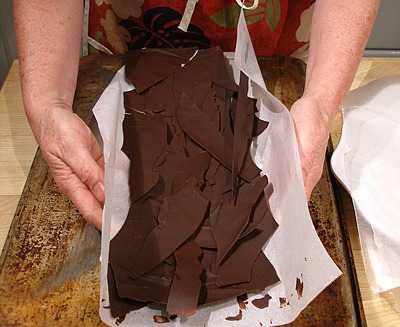 7. Return to the refrigerator until needed in the recipe.

8. Frost the cake with Chocolate Swiss Meringue Buttercream, in this example.
9. Take the Chocolate Bark from the refrigerator, still on its parchment paper and set it on your worksurface.
Begin placing the Chocolate Bark pieces on the surface of the Frosted Gluten Free Buche de Noel. Press them gently into the Chocolate Swiss Meringue Buttercream, so they adhere to the cake. They will crack if too cold or if you press too hard.

10. Try to overlap them, and align them in one direction, so they look more natural. Cover the cake's surface all over, including the branches.