To torte a cake is to slice the cake layer into thinner evenly sized ones. The layers are filled in between with frosting, icing or a filling of some sort, and then crumb coated and/or frosted.

This how to baking technique is used with the Fresh Strawberries and Cream Cake Tutorial Recipe

HOW TO TIPS:
1. Make sure the cake has cooled. If the cake is frozen, let is thaw slightly.
NOTE: It's easier to trim and torte a slightly frozen cake layer than a freshly baked one. For that reason, I bake my cake the night before, let it cool, and then freeze the layers overnight. I let them thaw partially, and then torte the layers.

2. Trim the uneven cake layer with a long serrated knife so it is even.

3. To slice one cake into two layers, start by tracing a line around the middle of the cake with a long serrated knife. Then slowly rotate the cake while following that line with the knife and cut through the cake toward the center. After a few rotations you will have sliced the cake in two.
Repeat the process with the additonal cake layers.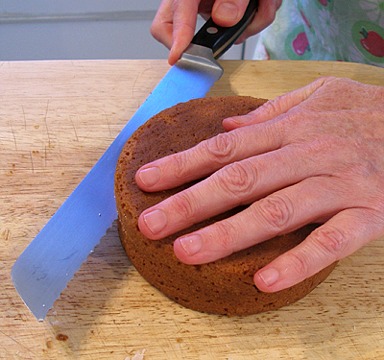 4. To separate layers, 8-inches and above, carefully slide the top torted layer onto a cardboard cake round.
NOTE: We are torting 5-inch cake rounds.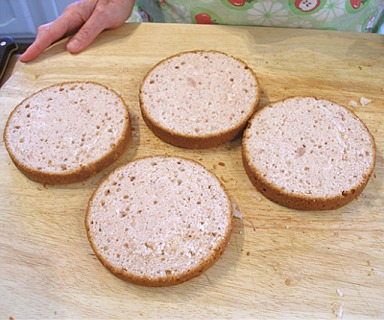 NOTE: If you don't get a straight cut, match the unevenly cut slices when filling the cake layers, in the next steps, to prevent your finished cake from tilting.