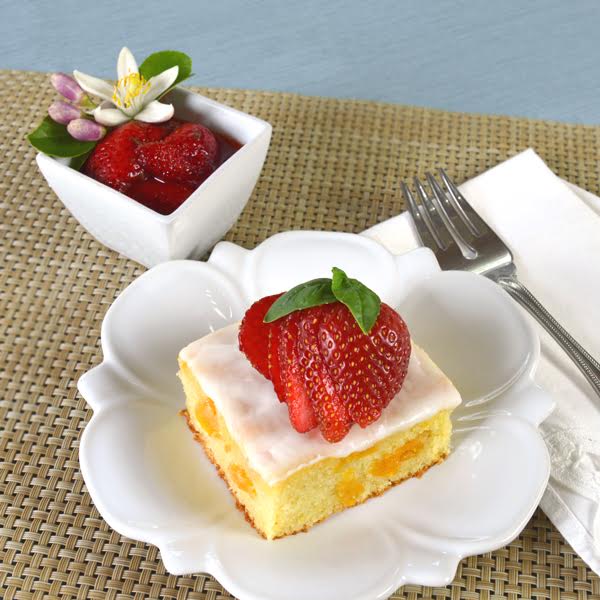 Apricots are indeed awesome!
They are low fat, saturated fat free, cholesterol free, sodium free, excellent source of vitamins, especially A and C, good source of potassium and fiber.
They are in season right now!
SARAH SAYS: Choose apricots that are plump, firm and uniformly colored.
Store apricots at room temperature until ripe then in the refrigerator in an airtight container for 3-5 days.
Apricots are great to bake with because their tart and sweet flavor seems to intensify. You can use fresh or those that are past their prime, but not moldy or bad.
We have several baking recipes on www.CraftyBaking.com using this fruit that is said to be a native of China for over 4,000 years.
To start, try our Lemon Olive Oil Cake with Drunken Apricots!
This recipe creates a dense, moist cake with a savory quality from olive oil and honey, enhanced by the flavor of almond and cognac-soaked apricots.
The flavors of basil and strawberry in the compote cut through the richness of the cake.

I especially love to bake our Cherry or Apricot Almond Clafoutis or Clafouti Recipe. It makes an easy-to-bake and quick summer dessert.
They are in season right now! (You're in luck! Cherries are also in season right now, too!)
Originally from the Limousin region, Clafoutis (also known as Clafouti), a country-French dessert is made by topping a layer of fresh fruit with batter. After baking it's served hot, sometimes with whipped cream. Some clafoutis have a cakelike topping while others are more like pudding cake, classified as a custard. Cherries are traditional, and this recipe calls for summer apricots for a variation, but will work well with almost any seasonal fruit that can go into a pie.
My family just drools over the Apricot Pound Cake Recipe.
This cake, amply flavored with lemon and orange peel, after baking, can have an moist apricot filling inserted into the cake, making it a great party or everyday cake.
The flavor combinations are perfect with a cup of hot or iced tea. Be sure to include a sprig of fresh mint and a lemon slice with your drink.

Making Apricot Mini Pies are so much fun and so delicious to eat.
They're bite-sized and full of fresh flavor - the baking recipe is topped with a cinnamon streusel, amped up with almond paste, and baked in muffin tins.
And, if you want to make something simple, but sublime and mouth-watering, apricots can be roasted.
They are included in the category called 'stone fruit'.
Our Oven Roasted Stone Fruit Recipe directs you on how to bake any type of stone fruit, such as peaches, plums, and pluots, as well as nectarines, apricots, and even mangoes. It's a great recipe to use just if you want to bring out the flavor of the fruit to a new heightened level. It's also great to do if your fruit doesn't have a lot of flavor, or is slightly under or over ripe because roasting brings out the flavor, and also softens it if underripe. Roasted fruit is great to use in a dessert such as over ice cream, with cake slices, or eaten for breakfast, such as spooned on top of yogurt or stirred into cereal. I found that there's no need to pit stone fruit in advance; after roasting, the pit will come out easily! The possibilities for roasted stone fruit are endless, especially if you just want to eat it alone as a snack or side dish!


Now that you've roasted the apricots, you just have to try our Mascarpone and Roasted Stone Fruit Tart!
This summer tart is a perfect foil for delicious and juicy-ripe stone fruit.
The lemon scented mascarpone filling and pat-in-the-pan toasted almond crust send it over the top….absolutely delightful! ​
Roasting the fruit first intensifies the flavor and makes it even more scrumptious.

I'm drooling over these awesome apricot bake from scratch recipe choices. Are you?
Remember that we at Crafty Baking present ours in a step by step, how to bake tutorial fashion.
And, if you have any questions, just ask in our Community Chat Room or with each recipe!