Sour Cream Apple Walnut Pie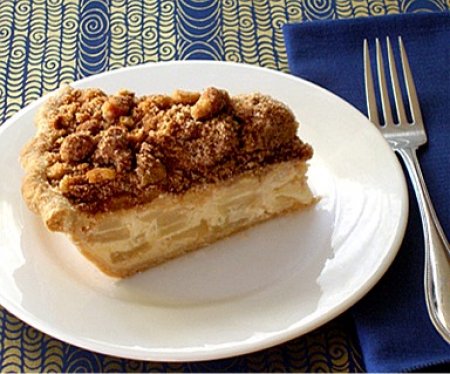 I first tasted this pie from the Little Pie Company in New York City, and have served it at my Thanksgiving table for years, even though I am a baker - just because the pie is incredible! I have always wanted to replicate it because it is so expensive - It costs $65.00 (plus, shipping) when ordered from them, but I finally figured out how to create the same recipe, at a much lower cost, which I now share it with you! This pie is the greatest and has been brought to life with Kelly's careful hands and wonderful photos! This recipe rendition will be served at my Holiday table from now on! It's butter-y, it's cinnamon-y, it's cream-y and crunch-y, and of course, filled with fresh apples - plus, it is so close to the original. It smells amazing as it bakes!
PIE RECIPE HELP

Kelly Says: "The taste of this pie is very sophisticated. I LOVE the combination of the tart apples, sour cream custard and the rich, crunchy cinnamon streusel topping. This makes the PERFECT Thanksgiving pie!
Not to sound braggy, BUT, this sour cream apple pie was the best tasting pie on that table. I am so glad that Sarah was able to deconstruct the original recipe so we can make it at home."