Savory French Macaron Hors d'Oeuvres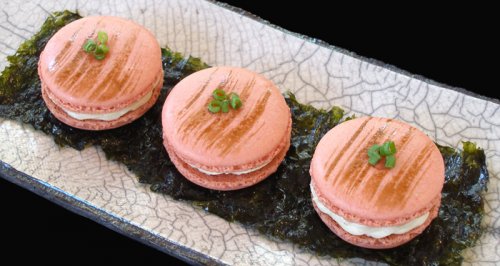 We love making dainty little multicolored French macarons. They are so sweet and pretty. So I thought, can I make a savory version? The answer is decidedly and deliciously, yes!
These savory macarons make stunning passed hors d'oeuvres and are an elegant addition to any cocktail party or special gathering.
When I came up with the recipe, Kelly decided to base the flavors on her favorite maki sushi: the smoked salmon roll. I started with my original French Macaron Recipe and cut down the amount of sugar, replacing part of it with another ingredient (see below to find out what that is). I also replaced some of the almond flour, which adds sweetness, with another savory ingredient (again, see below to find out what we added!). Finally, Kelly added a touch of ginger to the macaron shells, which give them a spicy element.
The savory filling is made from cream cheese beaten with soy sauce, wasabi, and green onion, then topped with chopped smoked salmon. To finish these gems, Kelly 'painted' the tops with an artful swipe of soy sauce and finished with a few slices of green onion. Absolutely delicious!
Here, the possibilities are endless, and you can come up with your own flavor combinations if you like. Make sure you fill the macarons pretty close to serving time because the shells soften as they sit. The macaron shells can be made in advance, placed in an airtight container, and frozen. The filling can be made 1 to 2 days in advance and kept refrigerated in an airtight container.
COOKIE RECIPE HELP