Variation: Rainbow Vegetable Tiam


HUSBANDS THAT COOK SAY: Ratafruitie has a graham cracker crust spread with homemade vanilla pastry cream that's topped with a bullseye fruit design - using imperfect produce, of course! Step-by-step information and baking tips are included here in Crafty Baking style.
There are literally hundreds of farmers markets in the greater Los Angeles area, but only four are active on Mondays—which was the day we planned to buy all the fresh fruit for this delicious summer dessert. There are forty-three on Thursdays and thirty-four on Wednesdays, but yes, only four set up shop on Mondays. Though our pickings were slim, we managed to find a small one just ten miles away called the Helen Albert Certified Farmers Market which carried everything we were seeking to complete our colorful creation. Sarah Phillips, the founder of Ugly Produce is Beautiful, recently asked if we'd like to contribute an article for her website, which is how the inspiration for this recipe began. Remember those Apple Rose Pastries we made a few months ago, the ones that taste just like homemade apple pie? Those tasty treats were also a contribution for her site, and we are happy to be sharing another, since we support the simple message: Don't be afraid to buy produce that doesn't look "perfect". A carrot may have an extra leg, or an apple may have a small blemish, but they taste exactly the same. They're still usable and should be baked into a pie or blended into a smoothie instead of being wasted and thrown away. This vibrant dish is a perfect example of how you can take something ugly and turn it into something quite beautiful… and quite delicious!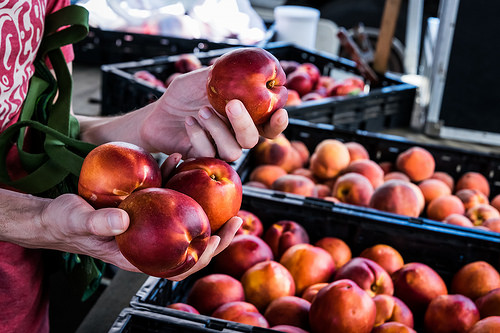 In addition to being the title of a wonderful pixar movie, Ratatouille is a traditional French dish, prepared by layering sliced tomatoes, zucchini, eggplant, squash, and bell peppers in a baking dish lined with a rich garlic-infused tomato sauce. Sarah has posted a vegatable version on this site: the Rainbow Vegetable Tiam recipe. Leave it to the Husbands to turn this savory French classic into a simply satisfying summer sweet treat. And indeed it is: say bonjour to Ratafruitie! Here, slices of fresh kiwi, juicy nectarines, tangy mangoes, plump strawberries, ripe cantaloupe, and purple plums rest on silky clouds of vanilla pastry cream and a crunchy graham cracker crust. Similar to a fruit tart, but with a gorgeous layered design, this refreshing dessert is going to steal the show at your next summer celebration.

The prep for ratafruitie is fun and easy. The smooth vanilla cream is simply made in one pan, and the three-ingredient graham cracker crust bakes in just five minutes. And you don't have to use the exact same fruits we did: feel free to pick your favorite flavors, and arrange the slices in whatever creative pattern you would like. Got some amazing homegrown peaches? Throw them in! Don't like melon? Leave it out! No matter what you decide, it is bound to be fresh, delicious, and gorgeous. Especially when it begins with ugly produce.
Follow Husbands That Cook on Instagram and on www.HusbandsThatCook.com! Join us as well on @UglyProduceIsBeautiful!
FRUIT AND PUREES INGREDIENT HELP
INGREDIENTS
For the vanilla pastry cream: Make the night before or three hours in advance
5 large egg yolks
1/2 cup granulated sugar, divided
3 tablespoons cornstarch

2 cups half-and-half
1/8 teaspoon salt

4 tablespoons unsalted cold butter, cut into small pieces; SARAH SAYS: Do not use melted butter or really softened room temperature butter for this, otherwise the water will have separated from the fat in the butter, ruining the pastry cream
1 1/2 teaspoons vanilla extract

For the crust:
1 1/4 cups graham cracker crumbs (142g, from about 9 whole crackers, or one sleeve)
1/4 cup granulated sugar
5 tablespoons unsalted butter, melted

For the fruit:
2 to 3 kiwi fruit, peeled, halved lengthwise, and cut into 1/8-inch slices
1 to 2 nectarines, halved, seed removed, and cut into 1/8-inch slices
2 to 3 mangoes, peeled, side "steaks" removed and cut into 1/8-inch slices
1/2 pint of strawberries, stem removed and cut into 1/8-inch slices
1/2 cantaloupe, halved, seeded, skin removed, and cut into 1/8-inch slices
2 to 3 plums, halved, seed removed, and cut into 1/8-inch slices

For garnish, optional:
1/2 a nectarine, for a rose (how to make instructions in recipe)
strawberry or apricot jelly or jam; pick any flavor you like. Jam, which has bits of fruit in it, but can heated and then strained.
mint leaves

NOTES: Prepare the fruit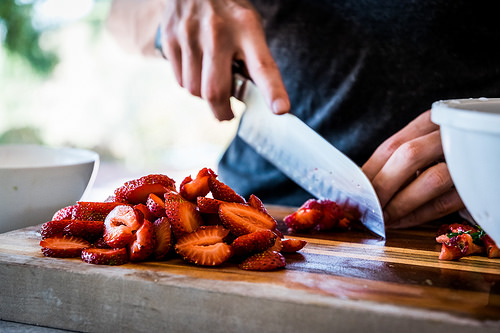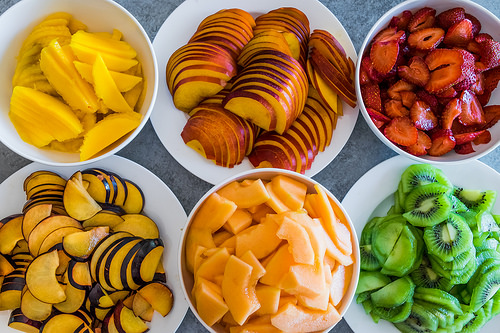 Separate the eggs for the pastry cream, keeping the egg yolks for the recipe. Store the egg whites:

INSTRUCTIONS
STEP I: MAKE THE PASTRY CREAM THE NIGHT BEFORE OR THREE HOURS IN ADVANCE
1. In a medium heat-proof bowl, whisk together the egg yolks and 2 tablespoons of sugar until smooth. Add the cornstarch and whisk until completely smooth.
SARAH SAYS: Do not let the sugar sit on top of the egg yolks without stirring; it will cause the yolks to "burn" or stiffen from the sugar quickly absorbing the liquid from the yolks.

2. In a small heavy-bottomed pan, stir together the half-and-half, 6 tablespoons of sugar, and the salt over medium-high heat. Cook until simmering.

3. Once the half-and-half mixture is simmering, slowly drizzle a large spoonful it into the egg yolk mixture as you whisk vigorously. Repeat quickly with another spoonful. Then pour the contents of the bowl into the simmering saucepan, and stir quickly to combine.
SARAH SAYS: This technique is called tempering, not to be confused with chocolate tempering.
4. Bring the half-and-half and egg yolk mixture to a simmer and whisk while cooking for another 30 - 45 seconds until thickened and bubbly, taking care that the mixture doesn't stick to the bottom and edges of the pan.
SARAH SAYS: I like to use a flat wire whisk for this task.

5. Then remove from heat. Strain through a fine mesh strainer into a medium bowl.

6. Let the pastry cream cool for 5 minutes.
Add the cubed butter. Whisk until smooth and evenly blended.
Then add in the vanilla extract and combine.
SARAH SAYS: If the pastry cream is too hot when adding in the butter, it can separate.

7. Cover with plastic wrap, pressing the wrap directly on the surface of the cream, preventing a skin from forming.
SARAH SAYS: If a pastry cream skin does form, just remove it; do not attempt to stir it into the pastry cream.
8. Refrigerate until completely chilled, at least 3 hours or overnight.

STORAGE
Store pastry cream in the fridge for a few days. Before using, pour off the liquid that forms on top during storage and then stir. Pastry cream does not freeze well.

STEP II: MAKE THE CRUST
1. Position an oven shelf to the middle of the oven. Heat the oven to 350 degrees F.
2. In a medium bowl, combine the graham cracker crumbs, sugar, and melted butter and stir until evenly combined. Transfer to a 10-inch oven-safe skillet (or tart pan), and press the crumbs firmly into the bottom and about 1/2-inch up the sides, creating a crust.
SARAH SAYS: To save on having to wash extra dishes, I like to mix the crumbs, sugar and butter directly in the bottom of the pan or baking pan, and then press them firmly into the bottom and about 1/2-inch up the sides.

3. Bake for 5 to 7 minutes, then cool completely on its pan on a wire cake rack.
STEP III: ASSEMBLE THE RECIPE
1. Pour off any extra liquid from the chilled pastry cream and stir.
SARAH SAYS: If a pastry cream skin does form on top, just remove it; do not attempt to stir it into the pastry cream.
2. Spread the pastry cream evenly over the cooled graham cracker crust.

3. Decide on which order you want to layer your fruit, then begin placing the fruit slices in a repeating pattern around the edge of the skillet, packing them in snugly.
HUSBANDS THAT COOK SAY: We alternated the fruit slices, making a pretty and eye catching pattern.
Once the outer circle is complete, start a second row closer to the center of the pan.
Once that row is complete, there will still be some space in the middle.

4. You can fill the center in with another small row of fruit slices, or you can make a nectarine rose, as we did.
To make a nectarine rose, cut the fruit in half and remove the seed. Place one half flat-side-down on a large cutting board. Using a very sharp knife, slice it into thin 1/16-inch slices, keeping the slices together as you cut. Slowly slide the slices across each other, fanning them out until they make a long line of overlapping slices. Starting at one end, gently roll the slices up until they form a spiral rose shape. Here's a helpful a video tutorial.
5. Place a few tablespoons of jelly in a heatproof bowl, then microwave it in short bursts until the jelly is liquefied (alternatively, you can do this on the stove in a small pan).
Strain if using jam and discard the bits of fruit and seeds.
Brush the fruit lightly with the glaze until shiny with a pastry brush. Garnish with mint leaves if desired.
HUSBANDS THAT COOK SAY: Brushing the fruit with melted jelly will give it a beautiful glossy shine.



SERVE
Chill uncovered for 20 minutes before serving, so the glaze and filling can set.
STORAGE
Store the Ratafruitie in the fridge for a day or two. It does not freeze well.

VARIATION
Rainbow Vegetable Tiam