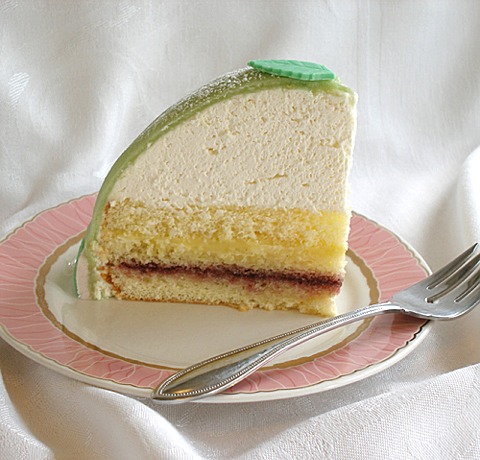 Princess cakes are thought to have originated in Sweden, known as Prinsesstårta, but are also popular in Norway, known as the Prinsessins Kramkake, as well as in Finland, and around the world. They look exactly the way Kelly made hers - but she has made a most spectacular one, garnished with a band at the bottom and hers is especially domed. I have used my special recipes with this dessert to make it extra tasty and more foolproof!

The cakes are made with a delicate sponge cake, moistened with a sugar syrup or St. George Raspberry Eau de Vie, spread with raspberry jam and filled with pastry cream. They are then frosted with whipped cream - I use stabilized for more structure - shaped in a traditional large dome shape, and covered in elegant pastel colored marzipan or white chocolate fondant (Satin Ice). They are garnished with a lovely design on top, traditionally being a rose! They are perfect served for a spring celebration such as Mother's Day, a wedding shower or special luncheon.

We made the whole thing into a tutorial so you can try making it yourself. We have always admired these cakes from afar - in very fine pastry shops - and wanted to be able to make them! So, Kelly and I figured out how and shared it with you!
CAKE RECIPE HELP
KELLY SAYS: "Yesterday I made the best cake I have ever tasted in my life, and I'm not exaggerating!
Sarah's Princess Cake is AMAZING tasting!...
Sarah, thanks for this fabulous recipe. Unfortunately, the cake keeps calling me from the fridge."