Mini Chocolate Meringue Tarts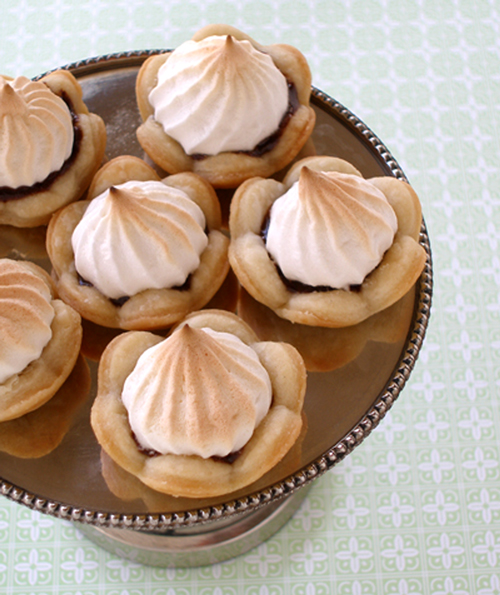 Flaky, tender pastry with a rich chocolate filling and toasted meringue topping. A fabulous combination!
PIE RECIPE HELP
KELLY SAYS: This week I found out, last minute, that I needed to come up with some sort of a dessert for about 60 people for a potluck at my son's martial arts school. I knew I had pie dough in the freezer, so I took it out to thaw. Since pie is a bit messy to serve at a potluck, and there were going to be many mouths to feed, I decided to make tartlets instead.
I put together a couple of fabulous CraftyBaking.com recipes to create these Mini Chocolate Meringue Tarts.
I chose to use this Chocolate Glaze, rather than a traditional ganache, because I know it stays soft-ish, even when chilled, and it is absolutely delicious. It is also a little "saucy", which added moistness to the tarts and cut the dryness of the high crust to filling ratio. It was PERFECT.
I used a flower cookie cutter which made them look pretty and dainty. If you want to use a plain round, or scalloped round cookie cutter, you can do that too.