Gluten-Free Everyday Chocolate Cake or Cupcakes
Variation: Sarah's Gluten-Free Yellow Butter Cake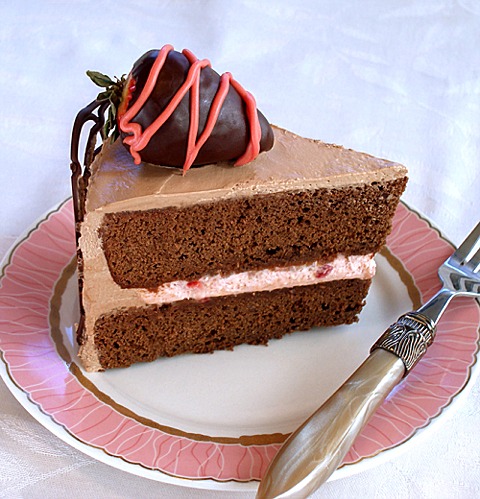 This gluten free recipe makes a wonderful everyday layer cake and perfect cupcakes, and uses Sarah's Gluten-free Mixing Method. They have a light and fluffy texture, great color and are very chocolaty!
CAKE RECIPE HELP / GLUTEN-FREE RECIPE HELP
KELLY SAYS: "My neighbor is having back problems and her oven is broken so I offered to make her daughter's birthday cake.
One of the guests, coming to the party, is on a gf diet, so Sarah suggested that I try her gluten-free chocolate cake recipe.
Everyone LOVED the cake and couldn't believe it was gluten-free. ALL the plates were empty...they ate it up with glee.
I used a chocolate Swiss meringue buttercream, filled it with strawberry stabilized whipped cream and diced strawberries. I made a lacy chocolate collar to wrap around the cake, and I topped it with chocolate covered strawberries.
The cake is nicely chocolaty, and has a nice moist crumb, just like a REAL cake."

kake, Premium Member, Says: "I can't believe this is gluten-free chocolate cake. Looks like regular chocolate cake.
congrats for Sarah to make another beautiful gluten free cake."