Fresh Peach Galette Tutorial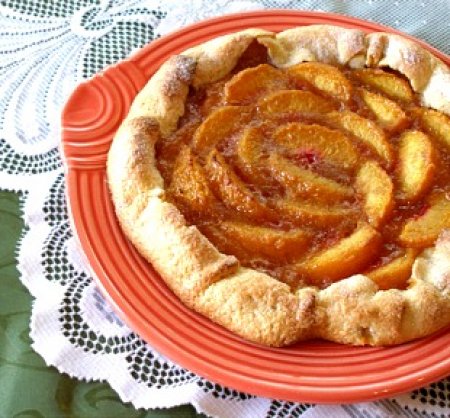 Nectarine Galette and photo by Kelly Hong © Sarah Phillips
One of the simplest pie pastry dessert recipes you can make with fresh peaches is a Peach Galette. It is a free-form rustic tart, that is a marvelous blend of elegant and casual. It is baked with my Perfect Pie Dough Recipe without a pie pan, with the crust folded up around the filling and baked on a cookie sheet. They bake up much faster than a traditional pie so you can make one in a hurry. One of the best ways to make it is with peaches, but can be made with any stone fruit. When fresh peaches are out of season, use canned in juice, well drained. I have also successfully used 3 1/2 cups thawed frozen peach slices.
PIE RECIPE HELP

Kelly Hong Says: "Sarah's Fresh Peach Galette is a winner. The crust is tender and sweet and the peaches are the star."