Classic White Whole Wheat Sandwich Bread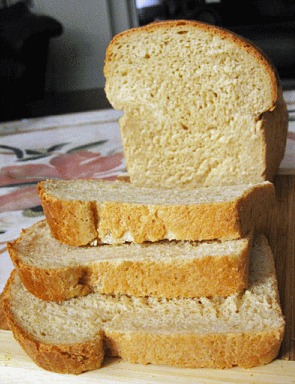 Bread by Sarah Phillips; Photos by Tara Korde © Sarah Phillips
This is my favorite loaf to make as an everyday one, especially when the kids' were young, for the school lunch sandwiches. The bread slices beautifully because of the eggs, milk and butter, and it is great for toast. If you are lactose intolerant, substitute the milk with the lactose-free or soy milk varieties, and the butter with soy butter, and the recipe will turn out perfectly. You can completely eliminate the eggs, if desired. As with all yeast bread recipes, on any given day, you may not use all of the flour specified in the recipe, or you may need more; just add the flour until you get the right dough consistency, which I show you, and then, stop adding in flour.
All of the step-by-step techniques you will learn in this lesson can be applied to any yeasted bread recipe; so many of our Premium Members have reported learned how to bake bread from this very recipe. It makes a wonderfully moist bread, with subtle wheaty notes, high in fiber. I use lavender honey in the recipe, which I can smell in the finished bread, which is heavenly!
BREAD RECIPE HELP
chefcandy, Premium Member, Says: "I have used the recipe from sarah for classic white WW sand bread with much success. i didnt make loaves in a pan i did battards instead. i threw a couple of ice cubes onto bottom of my oven (it doesn't hurt it, it's just loud!) to form a nice crust. it came out perfect. it's a great go to bread! Happy baking!!"

msbreez, Premium Member, Says: "I also love Sarah's recipe!! It's the best bread recipe ever!"

basementrockstar, Premium Member, Says: "Ok my new attempts at bread are PILES better! ...So I made the classic White Whole Wheat Sandwich bread...and did the microwave proof box idea and my bread is AMAZING. It rose so well and is still soft and tasty today (made it on the 2nd)! I'm really pleased with it. I also was able to knead my pizza dough a lot better and it actually stretched out properly!! I was so excited LOL. I'm going to try pie crust tomorrow. I've NEVER been good at pie crust but if the tutorials on that are as awesome as the bread ones I'm in business!!!!!"