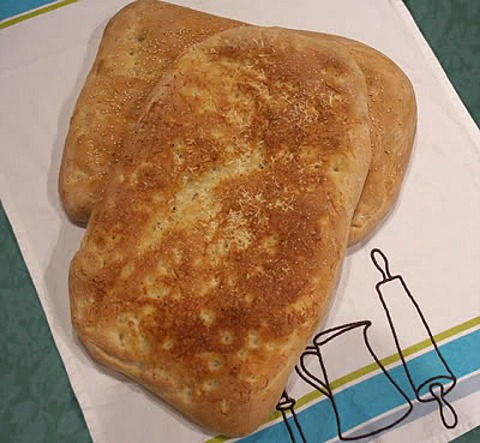 Bread and photo by Kelly Hong © Sarah Phillips
Ciabatta bread is a rustic, oblong, flat bread whose name means "slipper" in Italian. It is one of "the" breads of the artisanal basket. It is made from a biga, the Italian name for "starter dough". Unlike focaccia, its top is usually unadorned with herbs and oil and is made with flour, salt, water, and yeast and sometimes with olive oil, too. It has a heavy, dull, tannish-brown crust with a striated appearance because of the flour used to keep the wet dough from sticking to the bench (work surface) and proofing (rising) cloth. Loaves should be more flat than high. Inside, the bread should have big alveolus (air holes) and lots of them.
BREAD RECIPE HELP
KELLY SAYS: "I made a mixed bean soup for dinner so I decided to bake some rosemary ciabatta to go along with it.
I topped one with sesame seeds and the other one with coarse salt, pepper and parmesan cheese.
We just slice off pieces and dip it in olive oil, that is seasoned with salt, pepper and fresh garlic. We also like to dip it in the soup.YUM!!
This bread also makes really good sandwiches and toast. We LOVE IT!"
SHARONSZ, Premium Member, Says: "Sarah, I made your recipe last night and it was absolutely delicious! It rose very nice, had a great texture and a very good taste. It's a keeper. Thank you, Sharon"