Chocolate Cake Roll or Biscuit Roulade
Variation: Vanilla Scented Biscuit Roulade Cake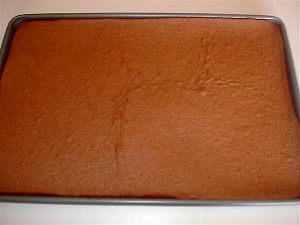 Cake and photo by Sarah Phillips © Sarah Phillips
A jelly roll cake (American), also known as a biscuit roulade, roulade (Paupiette) or biscuit recipe (French) or Swiss Roll (English), is used to refer to cakes that when flat, serve as a base, often brushed with flavored sugar syrups, filled with another ingredient, such as buttercream, citrus curds or chocolate ganache, and then are rolled into a tube-like or log shape. The cake is sliced to display the ingredients swirled into the rolled base of cake. We use this very technique to make our Triple Chocolate Raspberry Cake Roulade or Roll. A flat Biscuit Roulade can be cut with kitchen scissors or a knife into any shape, and then used as a base for cheesecakes or flavored and tinted and used strip on the side of a cake or used to line a mold to encase our Almond Joy Ice Cream Bombe or Bavarian cream to make a charlotte.


SARAH SAYS: I use this recipe to make my traditional Buche de Noel or Christmas Yule Log Cake with - that's the French Yule Log Cake to you and me! It is a classic holiday rolled cake that is decorated to look like a log or branch. My version is brushed with a flavored syrup, filled with whipped cream, rolled, cut into a log shape, and then frosted with chocolate ganache and garnished with candy clay leaves and berries and meringue mushrooms. You can even make the mushrooms and leaves from marzipan, which are a lot easier to form.
CAKE RECIPE HELP

Fearless Baker, Premium Member, Says: "I made this at Christmas time and it was great!"