Blueberry Acai Smoothie Bowl With Grilled Peaches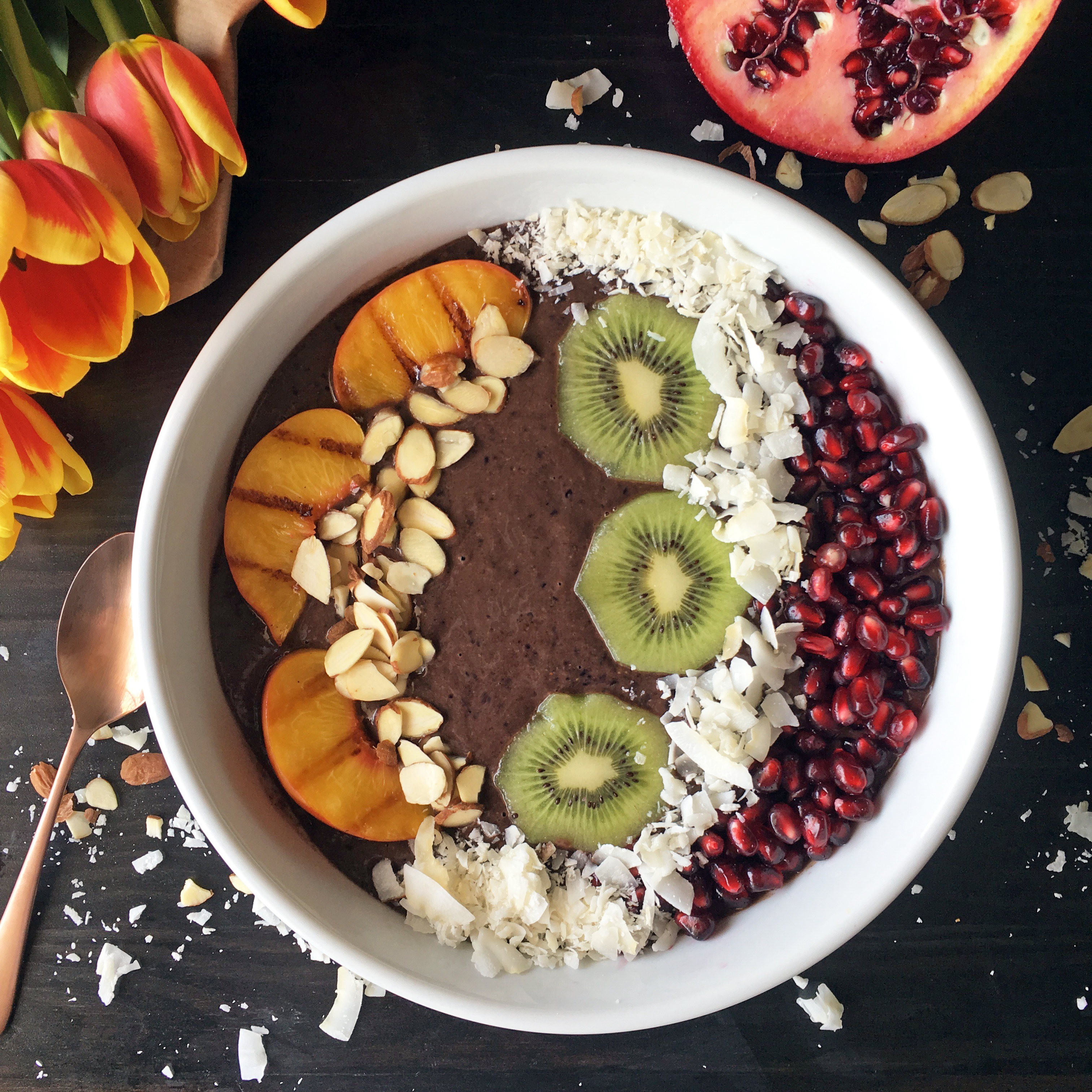 Christi Lazar Says: "I took my overripe bananas, peeled them, and stuck them in the freezer. When I was ready to make my smoothie, I chopped them up and used them as the base for my smoothie. They give the smoothie a great slushy consistency (would be great with rum, but I digress)! Then I added the remainder of my fresh blueberries, a little acai powder, almond milk, and almond butter.

Now, the toppings! My second favorite thing to do with my fruit is grill it! Which is perfect for summer because at some point we all have the grill going anyway. It's a great, healthy dessert option for a summer cookout, or a nice change of pace when you're topping your smoothie bowl, oatmeal, cereal, or yogurt.

Brushed in a little oil, you can grill peaches, apricots, apples, pineapple, watermelon…the possibilities are completely delicious! So I cut up a leftover peach, brushed it in a little olive oil and grilled it on each side! I also used a left over kiwi and pomegranate.

Moral of the story for this month's installment…make a smoothie bowl, grill your fruit, and get creative to cut down on food waste!"
Join us in our fight against food waste and learn more about creative ways to use ugly produce with our Ugly Produce is Beautiful℠ Educational Campaign and on Instagram @UglyProduceIsBeautiful!
FRUIT AND PUREES INGREDIENT HELP
INGREDIENTS
For The Grilled Peach:
1 Medium Peach (Approx. 98g), sliced into wedges
2 teaspoons Olive Oil

For the Smoothie Base:
2 cups Frozen Bananas, sliced
2 cups Blueberries
1 cup Unsweetened Almond Milk
1/4 cup Acai Powder
1/4 cup Almond Butter
For the Toppings:
1 Kiwi, sliced
1/2 cup Pomegranate Arils (seeds)
Unsweetened Coconut Flakes
Sliced Almonds
INSTRUCTIONS
Grill the peach wedges:
1. Heat the grill to medium-high
2. Brush peach wedge on all sides with olive oil.
3. Place one cut side-down on grill.
4. Grill 2 - 3 minutes until grill lines form.
5. Turn wedge to the other cut-side down on grill. Grill for another 2-3 minutes.
6. Remove from grill and set aside on a plate
Make the smoothie base and assemble with the toppings:
1. Place sliced bananas, blueberries, almond milk, acai powder, and almond butter in a blender, and blend until smooth
2. Pour smoothie into two bowls
3. Top each bowl with 1/2 of the grilled peach slices, 1/2 of the kiwi slices, 1/4 cup of pomegranate arils, half of the coconut flakes and almond slivers
SERVE
Serve immediately.

STORAGE
Store any left-overs in the refrigerator for a day.